Bollywood veteran actor Dharmendra received a credit of plastering his name on walls of a restaurant named 'Garam Dharam' in Delhi. Dharmendra themed restaurant will have walls covered with his popular and famous dialogues, photos along with movie posters. It is designed in a way which gives a feel of village sitting where the restaurant elevate actor's stardom step-up and take back to the olden days.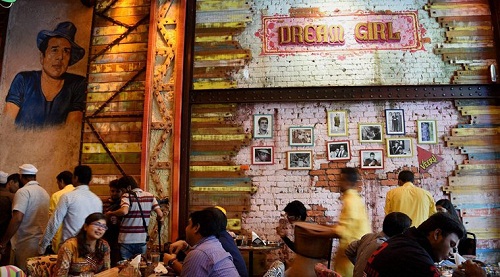 So its very perfect for Dharmendra to inaugurate new restaurant 'Garam Dharam, Dhaba Te Theka' on Wednesday. 79 year old legendary actor said he is son of a farmer and brought up in that environment. He cannot do anything other than acting and he felt very special watching all this love and affection.
During restaurant inauguration Dharmendra said,
"I had never imagined that I will have a restaurant in Delhi's Connaught Place area and it will be named 'Garam Dharam'. Over the years I have got so many tags, from 'Action Man' to 'He-Man' and even 'Garam Dharam', for which I am thankful to everybody."
At first Dharmendra was not ready to nod his head for inauguration as he doesn't know even ABCD of the business. But after having its view and experiencing himself, he said, all the people love to have food at this place with best price and even Dharmendra is sure about Garam Dharam acceptance as it is not comparing with anything but willing to give a embrace experience.
Rs. 800 to Rs. 1000 would cost a meal for two people excluding tax. Tiwari said,
"This is a place suitable for all age groups. It is a warm, cosy, and comfortable 'Dhaba Te Theka' style restaurant where each meal is a treasured time to relax and share a bounty of wonderful food with family and friends."