First Drive In Theater In Vizag: Theater is a place where dramatic and plays are performed. So far we have seen indoor theaters and now its time to experience outdoor drive in Theaters. The steel city Vizag is the first one which is planning to create outdoor drive in theater. People for the first time enjoy watching movies by sitting in their own cars. This drive in theater consists of large outdoor screen, projection booth, concession stand and huge parking area for cars. We see this kind of theaters in Ahmedabad, Kolkata, Chennai and Mumbai. For the first time we are going to see in Telugu states that is in Vizag city.
First Drive In Theater At Vizag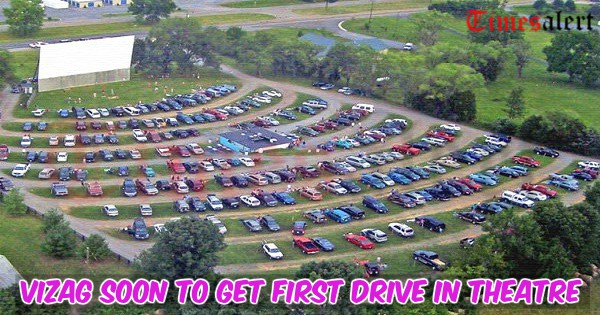 We can find this theater at Sheela nagar near Vizag airport. The cost for this entire theater is just Rs 25 lakhs which is compared to be less with the normal theaters. Drive in theater is all set to open shortly. It is soon inaugurated by the AP Chief minister Chandrababu Naidu. This theater is built in an area of 2 acres where 100 cars can easily be parked. Coming to the screen it is of height 40 feet and width 90 feet. It can be easily seen from a distance of 250 feet. All the equipment's which are required are brought from California. Audio of the movie is heard from the FM radio of the car. They are planning to have two shows that is one show at 7:00 Pm and the other at 10:00 Pm. The cost of the ticket is estimated to be Rs 80.
Vizag First Drive In Theater Booking Online Price Route 
In this drive in theater there are total of 220 seats for people who dont have cars. This container theater is having four shows a day. Open theater as 324 seats those who are having cars. Apart from all these they are also providing some facilities like restaurants and play area for children's. Finally Vizagites can watch the films without stepping out of the car and also by eating in the car they can watch the movie. This is the first drive in theater in Telugu state.