Delhi city police tried to clear all demonstrators from most eminent place Jantar Mantar, heart of capital city fro subsequent security reasons regarding Independence Day. All the Army veterans were propelled around the place Jantar Mantar which is a famous extensive place from past centuries and well pronounced for protests. Base camp was being held by former servicemen with group of 50 to gain recognition to the ongoing issue of 'One Rank One Pension' (OROP) and who made their avert vacating the place.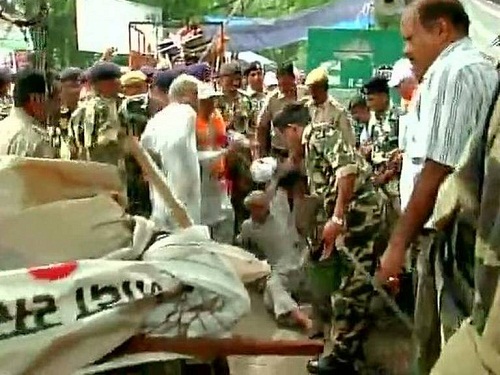 Demonstrators who were on hunger strike made their living in two tents where one of the tent was removed. A team of military chiefs concerning tomorrows Independence Day celebrations wrote to President 'Pranab Mukherjee' urging him to immediately intercede in OROP squabble notifying any rejection on the issue will seriously mangle officer-jawan relationship. The letter pleads President to intervene Supreme Court head on inadequacy in political determination.
NDMC Deputy Director R K Chabra said,
"We were told yesterday to remove all permanent structures from Jantar Mantar. While the reason right now is security, from now on, no permanent structure will be allowed at Jantar Mantar even for protests."
During Independence Day celebrations at Red Fort Prime Minister Narendra Modi is anticipated to take a huge step granting pension parity to retired army officers, jawans and who retired last year, through his speech. Present pension is based on Pay Commission counsel at their retire time. Armed force who retired in 1996 might get less pension compared to their juniors who retired next years. OROP implementation may cost Rs. 8,300 crore yearly by government.
Written letter was signed by former army chief General SF Rodrigues, former navy chiefs, Sureesh Mehta, Arun Prakash, Admiral L Ramdas and letter conveys,
"Soldiers, like flags and anthems, are emblematic of a nation's pride and honor. The very fact that the nation's military veterans have had to take resort to agitational methods and that the government could tolerate their denigration or humiliation has come as a rude shock to all of us."