Facebook today has announced that it is going to expand and redesign its notification tab on its mobile app. With this update, instead of a list in chronological order, you will be able to see a series of 'cards' that gives personalized information such as 'friends birthday, important events and other relevant information based on your location. For example, the wheather in your area, local news, movies playing near you, Restaurants in nearby location etc, once you turn on your location History on the app. You can customize or add more cards based on Facebook activity and location.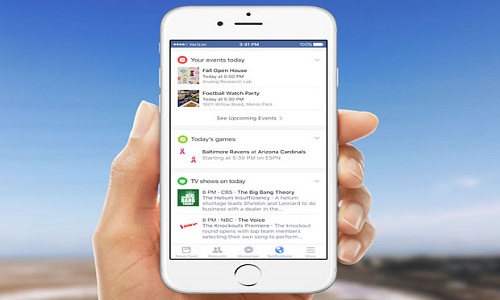 product manager Keith Peiris on the official Facebook blog said "We've heard feedback that people wanted to add important information that they can easily see, all in one place, Along with your notifications, you can see and customize timely info."
This new update will certainly become handy, especially if you want Facebook to keep track of the events in a similar way you keep track of sports and Tv shows etc.
With this update, your present notification will not change but you need to adjust that in your settings. Customization can be done by simply tapping on the right side of the card or add cards by tapping bottom of the card.
However, the biggest issue comes with the privacy, to make this new notification tab you have to enable the location, where some users may hesitate to exhibit their whereabouts and try this new feature.
This update will rollout for  for Android and iPhone in the US.