Mahesh babu latest movie Brahmotsavam released on 22nd May 2016 and received mixed talks all over the places. Soon after the morning show social media twitter and Facebook are flooded with trolls on mahesh babu and Brahmotsavam and started trending #Floputsavam.
Indian Express #brahmotsavam article 

Floputsavam
There is no official statement regarding the hit or flop of the movie. Without going through the official details Indian leading news paper Indian Express published a full page article on Mahesh babu Brahmotsavam movie with Title Troll on a Roll as #Flopotsavam trends with memes.
Indian Express Article On Mahesh Babu Floputsavam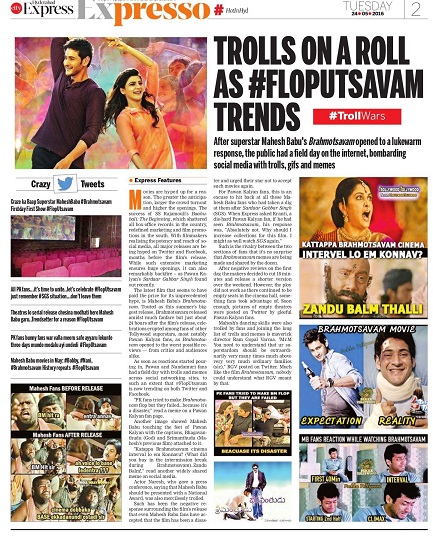 Mahesh Babu Fans Files Case Against  Indian Express
After watching the article Mahesh fans took this matter seriously stared #WeLoveMaheshBabu showing their support for the start and also started trending #RIPIndianExpress expressing their anger. No only mahesh babu fans but fans of the stars have also lend their support on this issue.
Don't Miss : Mahesh Babu Konchem Touchlo Unte Chepta TV Show Full Video
Indian Express Deleted Mahesh Babu #Floputsavam Article
The article was written by Indian Express article writer vasanth kumar. There are some rumors circulation around the media is that vasanth kumar was given a hefty ransom from anti mahesh activists for writing the articles. Now the vasanth kumar has been fired from the job and fans asked an Apology letter with a bold letter on the front page of the Indian express daily newspaper tomorrow.
Trending Now :  Sultan Movie Official Trailer
Indian Express Article About #brahmotsavam
As of now Mahesh babu has not given any official statement or response on this issue and media people are trying get his answer on this issue, meanwhile mahesh babu fans are planning to lodge a police complaint against Indian Express daily news paper and for insulting article on their star.
Must Read : Indian Express Apologizes Fans for Floputsavam Article