India vs Pakistan cricket match is not a match its a war between two teams, two nations and fans. It is the biggest rivalry match which every cricket fan will not miss to watch. Both teams are arch-rivals and fans do not want their favourite team to lose. In this rivalry match, losing is not a option which puts under pressure. There are sometimes where fans and players go overboard under the pressure. Recently ads on both teams have been going viral, Mauka Mauka is the one among them.
India Vs Pakistan Biggest Battles Ever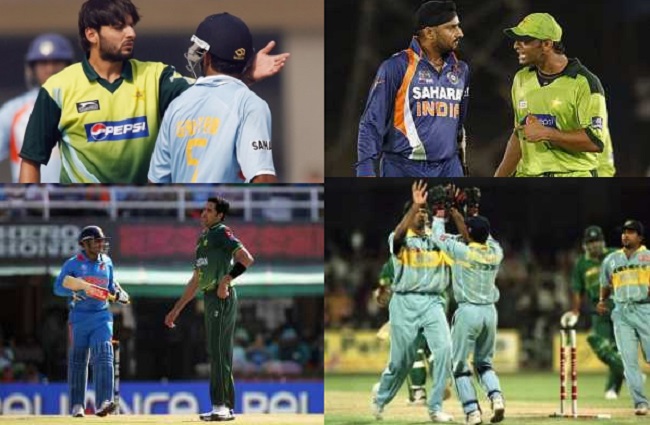 Today India will take on Pakistan in ICC T20 World Cup 2016. The match is going to take place at Eden gardens, Kolkata. Both teams are getting ready to take the field, Pakistani player have been in the poor form in the past matches and India has never lost to Pakistan in the World cup, may be it is T20 or 50 over format. Before the match, here we are providing  five interesting fights between India and Pakistan cricket match.
1) Kiran More vs Javed Miandad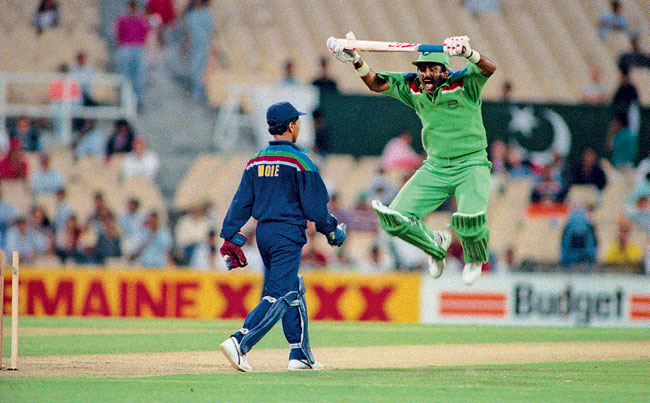 India Vs Pakistan in World Cup 1992 in Australi. Javed Miandad was batting for Pakistan against India while Indian Keeper Kiran More saying some stuff behind the wickets. This made the Pakistani batter Javed Miandad angry and he stopped the bowler and went to the Indian Keeper Kiran and asked to say what he intended to say, later came the almighty leaps of Javed. After that javed danced like kiran which he used to do while appealing for out.
2) Amir Sohail vs Venkatesh Prasad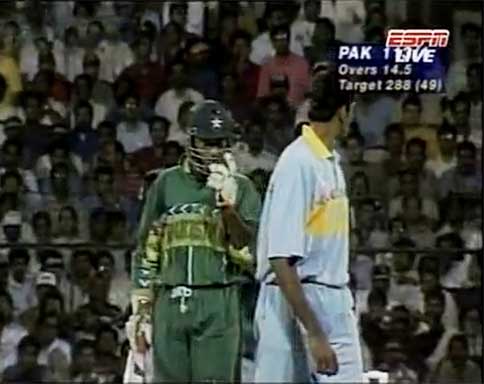 Pakistan vs India World Cup 1996, M. Chinnaswamy Stadium in Bangalore. This incident showed the best example of overconfidence. India has put up a big total by scoring 287/8 for the Pakistan team to chase. Sohail and Anwar entered the crease as the openers. Sohail hit a couple of boundaries against Prasad bowling and with overconfidence Sohail provoked prasad by saying that he should go and fetch ball from the boundary so that he can hit the next ball to the boundary line. Venkatesh Prasad gave a fitting reply by stumping out Sohail's wicket from the ground and sent him to the out side of boundary.
3) Shahid Afridi vs Gautam Gambhir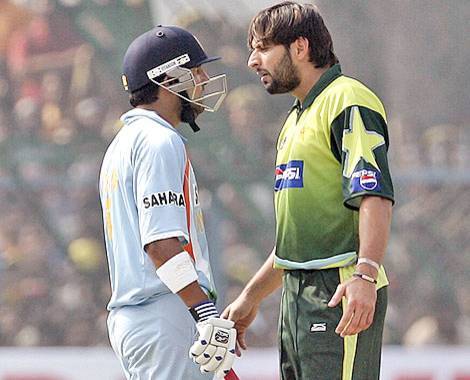 India Vs Pakistan, ODI series 2007. The incident happened when Gambhir hit Shahid Afridi bowl to four and the next ball the afridi collided with gambhir when he ran for a single. This resulted in a heated argument only with the intervene of on-field umpire Ian Gould this argument came to halt.
4) Shoaib Akhtar vs Harbhajan Singh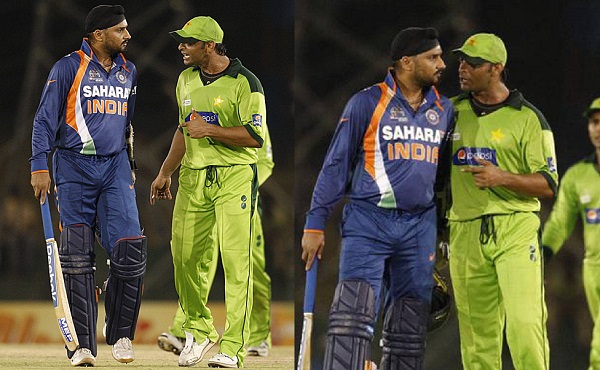 India Vs Pakistan, Asia Cup match in 2010. Harbhajan and Shoaib Akhtar got in to serious argument in the final over, where India needed 7 runs to win and Bhajji smashed a six of Mohammed Aamir bowling when 3 runs required from 2 balls. After smashing a six bajji roared towards Akhtar which caused the conflict
5) Virender Sehwag vs Umar Gul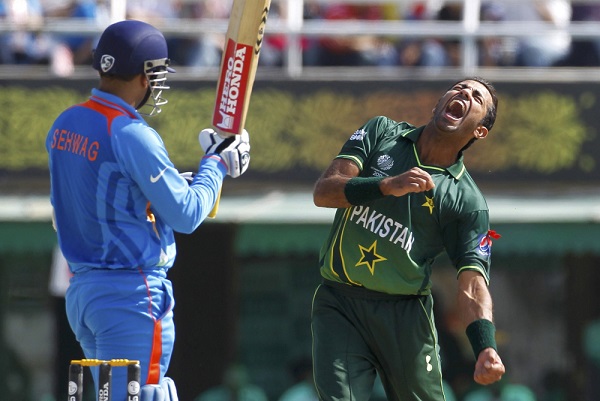 India Vs Pakistan, World Cup 2011 in Mohali. The incident happend when Virender Sehwag hit 5 fours in a single over of Umar Gul bowling which put Pakistan in a crisis. Sehwag just toyed with Umar Gul by hitting each ball everywhere on the cricket field. The over was considered most expensive of all Pakistani bowlers.
You might all been thinking that i missed out Sachin's fight with Pakistan team. Sorry guys but i don't considered them as a fight, it is just a pure domination of Sachin Tendulkar might against Pakistan players.