Assam rifles have claimed to have taken into custody five NSCN(K) militants who attacked Army Regiment at Dogra which injured at least 18 soldiers and 11 civilians. Militants have attacked Assam army base near Paraloon village on June 4th. Assam rifles identified one of the captured NSCN(K) militants as Mayanglangbam Manglemba alias Touthing Ngangba was taken into custody on July 19, other militant  is Chingkhiurei Gangmei captured on August 4th and Private Giftson arrested on August 19. After blasting IED, militants have initiated firing at army convoys with RPGs and automatic weapons.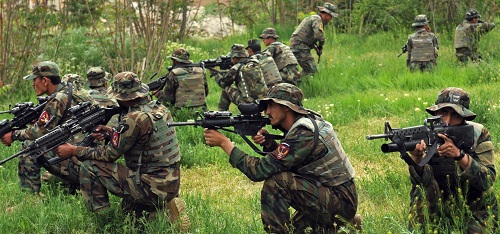 Giftson has revealed details regarding their activities and other team members disclosing certain confidential issues. Assam Rifles PRO have spoken to media recently and stated about acquiring militants, the apprehended accused are being handed over to the NIA for further investigation.
Mayanglangbam Manglemba has initially provided information regarding other militants, search team continued operations and held the remaining suspects who attacked Indian army base.
"Five members of the ambush team have been caught and the search for the remaining killers is on. All the above apprehended are being handed over to NIA for further investigation," an Army source told PTI.