American magazine company 'Forbes' listed 'Highest Paid Actors' list from Hollywood to Hong Kong and Bollywood, in which legendary actor 'Amitabh Bachchan' and 'Salman Khan' stood in Seventh position while 'Akshay Kumar' is in ninth place.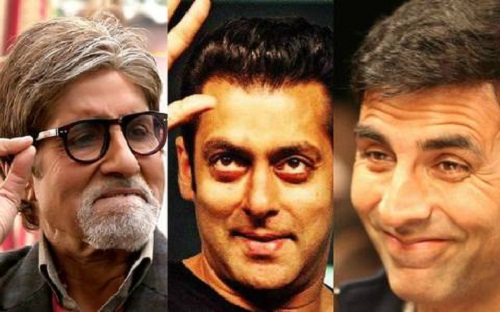 'Amitabh' and 'Salman' simultaneously placed in seventh place with $33.5 million of approximate earnings in the past years followed by 'Akshay Kumar' with $32.5 million in ninth position. Coming to the list of other Bollywood actors, 'Shah Rukh Khan' (18) with $26 million estimated earnings and 'Ranbir Kapoor' (30) with $15 million approximate earnings consequently.
Throughout his 5o years film career Amitabh Bachchan was a star to more than 150 films. Still he is continuing his work and earned lot of money through his films like Bhoothnath Returns (2014), quoted Forbes. Bollywood biggest Khan, Salman featured in about 80 films since his blockbuster hit Maine Pyar Kiya in 1989. Whereas Akshay Kumar acted in some 150 films since 1992. Bollywood baadshah
Shahrukh Khan earned much from his Happy New Year and Fan along with profitable agreements that include pan masala. Forbes mentioned, Ranbir Kapoor is one of the finest Indian male actor enters for the first time into Highest-Paid Actors list with an adequate paycheck for his movies like Roy and Bombay Velvet.
American actor Robert Downey Jr placed in first position with earnings of $80 million with his Iron Man franchise, Jackie Chan procured second position with $50 million payment. The other top ten actors are Vin Diesel (3), Bradley Cooper (4), Adam Sandler (5), Tom Cruise (6), and Mark Wahlberg (10).