Congress Leader, Former Madhya Pradesh Chief Minister and Rajya Sabha MP has finally married TV anchor Amrita Rai. Amrita Rai took over social media to announce that she had married Digvijaya Singh as per Hindu rites today. Some leaked photographs of Digvijaya Singh and Amrita were leaked online last year prevailing illegal relationship. Amrita Rai has already filed divorce from her previous husband and claims that they have also registered their marriage recently during last month in Chennai. Amrita Rai worked as Anchor in Rajya Sabha Television channel.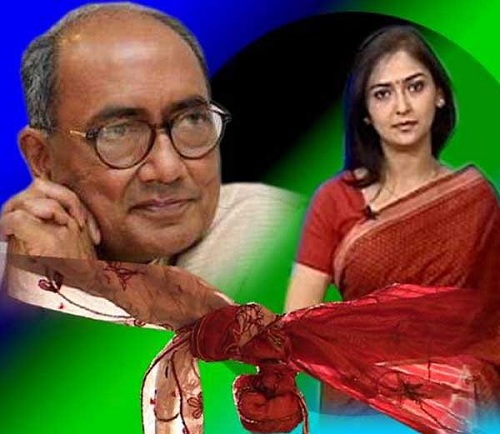 Digvijaya Singh's wife Asha Singh died in year 2013 after serious illness. Digvijaya is a father of four daughters and one son. Amrita singh quoted she was a victim of Cyber Crime and faced a harsh time for being treated as a criminal. I was deliberately trolled on the social media. I was deeply saddened by reaction of people kept my self quiet and continued with my work trusting myself and my true love for Digvijaya.
Amrita Rai stated, "I sincerely feel that at my age I know what is good for me and I can take my decisions as per my own wisdom. I have married Digvijaya Singh for love. Therefore, I have already requested him to transfer all his property and belongings to his son and daughters. I only want to embark on this new journey with him, working towards a dignified, professional career."
Digvijaya Singh who is in US has also confirmed his marriage with Amrita, and would brief on the matter after returning to India.