A tragic incident has occurred at Warangal congress candidate Sircilla Rajaiah house as the four members of the family including his three grandchildren were burnt alive in a major fire accident at his house in Hanamkonda area of Warangal district.
Rajaiah's daughter-in-law Sarika and his three grandson's Abhinav, Ayon and Sriyon died when fire broke out.
The incident took place in the early hours of Wednesday, all the four have been burnt at the time when rescue team has reached the spot.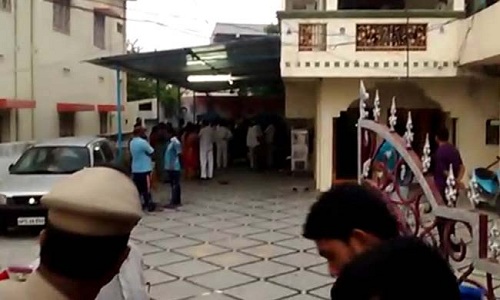 The fire occurred on the first floor of the house, Sarika was in the kitchen at the time of the accident while her sons were in the bedroom.
The reason behind the mishap is not known still, most probably due to gas cylinder explosion. Police officials are investigating in all angles to determine the cause of the fire.
Sarika has filed a dowry harassment case against Rajaiah some time back and even protested outside his house along with her three children.
Rajaiah's son Anil got married with Sarika in 2002 and the marriage was affected over her allegations that her husband is having an affair with some other woman.
This Former Lawmaker has filed nomination on October 31 to contest in Warangal By elections which was scheduled to be on November 21. Following this incident the congress party has decided to change their candidate. The party senior says that the decision will be taken soon.