On Wednesday the Film and Television Institute of India (FTII) students choose to cancel their 139-day-old strike saying their protest will proceed till the issue of appointing Gajendra Chauhan as Chairman was determined. The students held nine rounds of converses with authorities of Information and Broadcasting ministry, despite the fact that the discussions did not prompt any leap forward.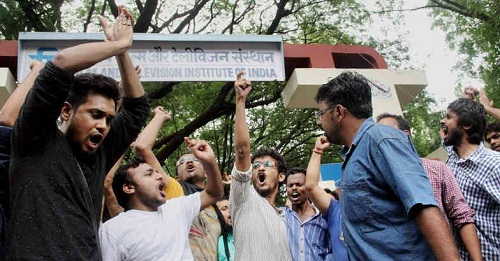 The FTII student association said they have chosen to come back to academics from prompt impact. Representative of FTII student association Vikas Urs said, we are returning back to academics from today itself. Notwithstanding we will keep on raising issue which we have been raising subsequent to 139 days.
Vikas Urs said, "We are returning to academics from today itself. However we will continue to raise issue which we have been raising since 139 days."
The students said despite the fact that they have chosen to resume classes, their fight against the government will just develop from here on. Rakesh Shukla said, we have chosen to return to classes in light of the fact that we felt we have passed on our message emphatically. Presently we feel we ought to proceed with our learning. Students were on strike to contradict appointment of Gajendra Chauhan as institution chairman saying he needs stature and vision.