After holding couple of meetings regarding Film and Television Institute of India (FTII) dispute, a fifth meeting with officials of the Information and Broadcasting ministry striking students will be held in Delhi today. Earlier meeting which was held in Mumbai on 10th October, the Information and Broadcasting secretary had parented a meeting with I&B minister of state Mr. Rajyavardhan Singh Rathore to accept the negotiations to take forward.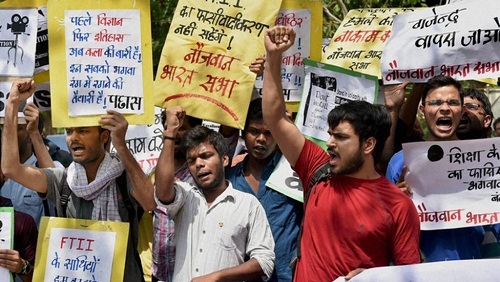 On Monday Mumbai High Court has issued a notice to the Union Information Broadcasting and Home Ministries. The Maharashtra government and student leader of FTII asked to put an end to the ongoing strikes at film institutions in Pune. Film institutes were protesting to appoint actor turned political Gajendra Singh Chauhan as Chairman of FTII. Questions had been raised that how much of hope these fresh round of meetings at Delhi will turn fruitful. But the ministry is quite accurate on arriving a solution. Even the students have expressed their desire to take seat across the table and resolve the issue which was being carried out since 90 days through their protests.
Students are also having positive hopes to find a solution where as government has also announced certain measures after the report and the recommendation came from the ministry. Students yet haven't given their approval for the report which has come out. On its part government has issued several measures including having mentors and complete administrative work.