Sweet shop from Andhra is likely to set up new Guinness World Record shattering their own previous record by preparing laddu weighing almost 8,000 kgs for Ganesh Festival celebrations. Sri Bhakta Anjaneya Sweets shop are preparing mammoth laddus for Ganesh festival celebrations from the past five consecutive years. Sweet makers have also prepared 6,300 Kgs laddu which is to be installed at Ganesh mandapam in Vijayawada, Andhra Pradesh. They have named 8,000 kg sweet as 'Navyaandhra Laddu' and organizers from Visakha Integrated Social Welfare Association, Vizag region have purchased laddu for 80 feet Ganesh Idol. Sweet Shop Owner Saladi Venkateswara Rao stated that, laddu was prepared by 12 workers who just finished it in eight hours.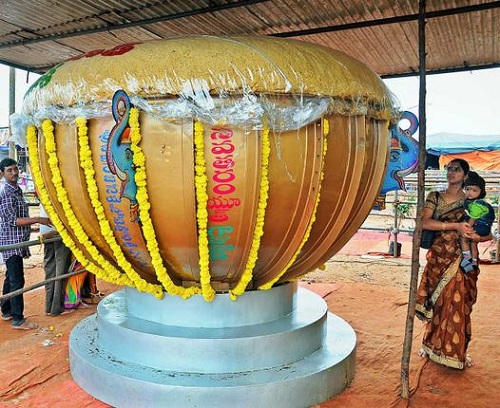 "We want to break our own Guinness Record this year by making these laddus. We also have orders for large laddus from Odisha, Bengaluru, Chennai and from Hyderabad. We will be taking orders even on the festival day," Rao said.
Mr.Rao has 40 people who are good at making these large laddus specially. Sri Bhakta Anjaneya Sweets has registered their place in Guinness Records for preparing laddus weighing 5,570 kg in 2011 year in first attempt, later on breaking their own record by making 6,599 kg in 2012, and 7,132 kg in 2013 and a 7,858 kg sweet last year respectively.