Former US President George HW Bush was injured at his home where he fractured his neck bone. Officials claim that Mr.Bush condition is normal but he will be wearing a neck brace. HW Bush is of 91 years age and was America's 41st president was previously hospitalized in Houston last year with breathing difficulties.
Jim McGrath the chief spokesperson Tweeted condition of former US President saying,"41 fell at home in Maine today and broke a bone in his neck. His condition is stable — he is fine — but he'll be in a neck brace".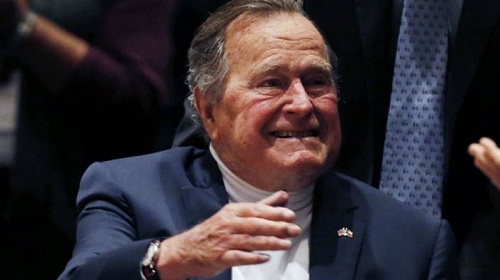 Hospital spokesperson, Matt Paul explained the medical condition of Mr.Bush after which when he was moved to Maine Center in Portland Hospital on Wednesday. Mr. Bush will be under observation and hopefully he will remain in hospital for a couple of days.
Matt Paul added,"He was brought here earlier today and diagnosed with a fracture in his neck. He is in stable condition and will be wearing a neck brace".
Mc Grath spoke to CNN, Mr. Bush will be under medical assessment as long he needs diagnosis. As far as now he is doing better, He is really tough as situation get tougher.
Mr.Bush during his tenure served as a congressman, a U.N. ambassador, a US envoy to China and director of the Central Intelligence Agency before preceding over Reagan's running mate in 1980. He was also a Navy pilot during World War Two, Mr.Bush celebrated his 90th birthday on June 12, 2014 by making a daredevil feat by skydiving near Kennebunkport, Maine, with the Army's Golden Knight parachute team assistance. Mr. Bush is currently suffering from Parkinson's disease and has no control over his legs.