Mumbai based tech firm Global Technologies on Wednesday has introduced a 3-in-1 windows tablet at a cost of Rs.19450 which will be available at online retailers Snapdeal and Amazon.
It names suggests that it is a 3-in-1 device which can be utilized as tablet, Laptop packed with Keyboard and as a desktop which looks like large Laptop. 3-in-1 Windows Tablet sports a 10.1-inch IPS Panel HD display with 1280×800 pixels resolution. The device is powered by 1.8 GHz quad-core processor (Z3735G) paired with 2GB DDR3L RAM at 1333 MHz and an inbuilt storage of 64GB which can be expandable upto 128 GB.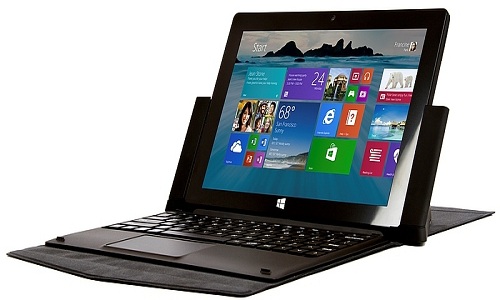 It houses a  5-megapixel rear camera which can scan barcodes and a 2-megapixel snapper for selfies. The device draws power from 7900m Ah battery which offers 8-10 hours and 60-70 hours of standby mode.  The tablet will run on Windows 8.1 with Bing and later will be upgraded to Windows 10.
The device has the dimensions of 258×172.6×9.8mm and weighs 615 grams and supports 3G connectivity. It comes with a keyboard with magnetic dock and a magnetic cover which will keep the device safe. The keyboard features a USB flash drive, hard drive, mouse, HDMI and a 3.5mm audio jack besides 4 USB ports, an RJ 45 jack, speakers along with an optional 500GB SATA HDD. Solt 3-in-1 tablet comes with a one year free insurance option and a one year replacement warranty.
"Solt has 'MySolt app' which is the only thing one requires to manage this device. This app can be downloaded from Windows or Android store on the user's smart phone. MySolt app comes with a chat option so one can connect with us for device settings or remote diagnostics. The app provides a large referral section which helps in answering everyday device questions and we also send a daily productivity tip, so that the user spends more time doing work and less time worrying about their device," said Krishna Singh, Founder Director, GlobalSpace Technologies, describing the bundled service app.
The tablet comes in Carbon Black colour variant.