Feeling Bored? Don't worry Google has launched a new tool that keeps you from getting bored. This new search tool which provide various fun facts to keep user engaged for hours. User can enjoy this feature by simply typing "Fun facts" or "I'm feeling curious" in the google search. You will get a random question and answer. The fact is provided in a box at the top of the page which is accompanied by a link from where the information apparently came from. When you click on the click you will be redirected to the Wikipedia, or you will find yourself browsing internet about different sites. For instance "What countries border the Black Sea?", "Are teeth part of the skeletal system?". For detail understanding just see the screen shot below.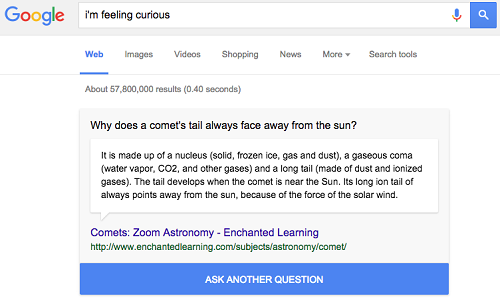 When you can continue querying by simply clicking on the "Ask another question" button to generate seemingly endless random facts.
This new feature comes quickly after Google revealing its new Logo. This new feature has joined in the list of eccentric features including: "I'm feeling playful" which directs you to Google Doodles,"I'm feeling generous" which redirects you to charity projects, "I'm feeling Stellar" takes you to Google earth.
According to the report from The Guardian, this new feature I'm feeling curious is available only in English as of now. However it is expected in few more languages very soon.