Government enhanced 'Freedom Fighters Pension' after increasing DA hike of 218% from year 2014 to 2015. This was declared on the eve of Quit India movement 73rd anniversary. As per 1st January, 2015 the total pensioners of freedom fighters were 35,900 out of which eligible and widow dependents were 24,466 followed by central freedom fighters pensioners 11,434.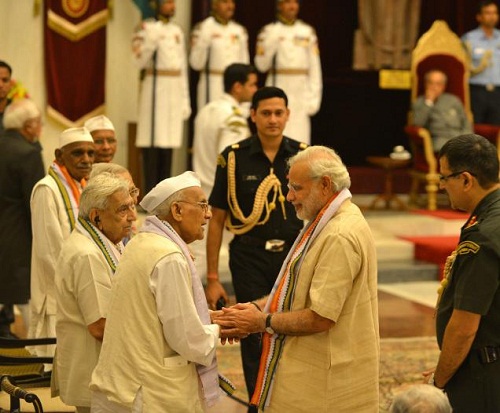 At Silver Jubilee year on 15th August 1972, this Freedom Fighters Pension Scheme (FFPS) was introduced. Till 31st July 1980 the initiated pension was permissible to only people who were in necessity to the financial assistance on their inadequate gross income and Rs. 200 per month is the minimum pension sanctioned to the freedom fighters.
On Sunday, Home Minister Rajnath Singh said, "Today is the 73rd anniversary of historic Quit India Movement. This movement paved the way for India's freedom. Government has increased the pension of freedom fighters or their dependent family members by introducing a hike of 218 per cent in DA relief in 2014-15."
He even bowed to all freedom fighters who contributed their sincere hard work during 1947 Independence. Home Minister said, Mahatma Gandhi raised the movement where thousands of people put their step forward to become freedom fighters. Re- evaluating the rate of pension on 1st August, 2014 after reinforcement of DA from 193% to 218% it is Rs. 23,309 per month for ex-Andaman political prisoners, Rs 4,770 for unemployed daughters/unmarried, Rs 10,064 for two partners while its is Rs 20,129 (Rpt Rs 20,129) for freedom spouses/fighters.
The largest number of freedom fighter pensioners live in Telangana (6,204) next in Andhra Pradesh (6,031), West Bengal (4,394), Maharashtra (3,866), Bihar (2,972), Tamil Nadu (2,005) and Uttar Pradesh (1,710).