Government has registered 9,700 above cases against women enormity including rape and domestic violence since April this year. Uttar Pradesh occupied the point of highest number in such cases. All these cases were registered with National Commission for Women. According to reported data of state and union territory, Uttar Pradesh have the peak number of women rights violation cases till now this
financial year with 6,110 cases followed by Delhi-1,179, Haryana-504, Rajasthan- 447 and Bihar-256.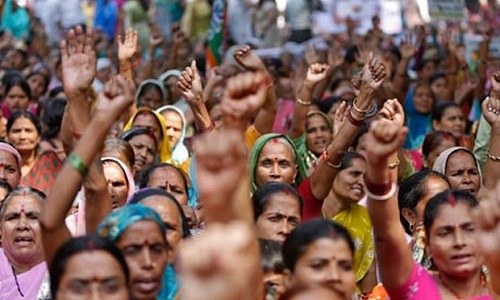 The total number of cases since last three financial years and till now fiscal, Uttar Pradesh registered a number of 44,328. As per Minister, necessary actions must taken by the Commission and put forward all the complaints to respective authorities. Providing complete details in Lok Sabha, Women and Child Development Minister Maneka Gandhi expressed reasons for infringement of women's rights comprise
'dowry harassment, domestic violence, rape, property dispute, offending the modesty of women.'
Maneka Gandhi said, "The National Commission for Women has registered 16,584, 22,422, 32,118 and 9,786 cases of violation of rights of women in 2012-13, 2013- 14, 2014-15 and 2015-16 (till date), respectively."
Government initiating other actions that include implementation and execution of law suit and programme for women protection like Dowry Prohibition Act, 1961, Protection of Women from Domestic Violence Act, 2005, Sexual Harassment at Workplace (Redressal, Prevention and Prohibition) Act, 2013 along with women helplines.
Gandhi stated government might accomplish 36 one stop help centers in order to help victim women who endure any sort of violence. In time period of three months, government is looking forward to achieve this function taking an appropriate decision on arranging 660 such centers. She even raised a point of having 33% women police force in the department.