On Monday government declared it would exercise all proposals of distinctive Eco- sensitive zones (ESZ) across wildlife sanctuaries and national parks by next year March 31, entreating to come up with clarity on establishing 'no go' zones surrounding protected regions.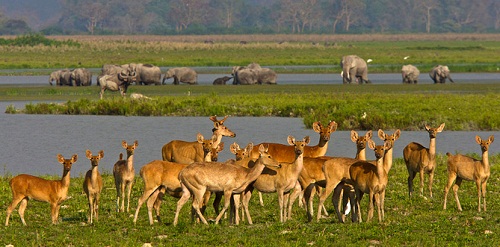 Pointing earlier UPA government, Union environment minister Prakash Javadekar said till now NDA government approved 176 proposals for ESZ across protected areas where as previous government has given clearance only to just 15 proposals in past eight years ie., from 2008 to 2014.
Prakash Javadekar stated, "There is a lot of confusion on the issue of Eco-sensitive zones. All the remaining proposals will be processed and approved by March 31 so that the confusion in the name of ESZ will end."
He said irresoluteness of UPA government created lot of confusion and obstruction in developmental activities from ground levels. Minister stated including sanctuaries and national parks there are 624 protected areas (PAs) in India.
Javadekar said, "Out of that, 100 proposals for ESZ were of Andaman and Nicobar Islands alone. Out of the remaining 524, 445 proposals were received by the ministry. 156 of them are under scrutiny by the Centre and the state governments. The %environment ministry has issued 31 draft notifications and 32 final notifications of ESZ."
Describing ESZ as main refinement it elucidate the situation from initial state but one may find it as technical thesis. Ministry is creating architecture making a concession technique. In order to create buffer zone, the purpose of ESZ was declared which permit only general activities within protected areas to save plants and animals.