Convener of Patidar Anamat Andolan Samiti, Hardik Patel has called for Gujarat Bandh in an attempt to demand OBC quota for Patel Community. Hardik was arrested by Gujarat Police for initiating hunger strike with out any permission from police and agitated rally in Ahmedabad by Patel community also ended up in a minor lathicharge. Gujarat Police responded as plea was only granted for peaceful rally but not for hunger strike.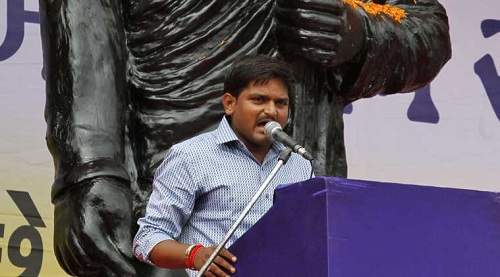 To intensify agitation on government, Hardik Patel called for a state wide bandh. He also pleaded his patel community members to participate in Gujarat Bandh peacefully as state witnessed violent incidents over past two days.
Hardik Patel initiated Gujarat bandh on tuesday saying, "I make an appeal to maintain peace and keep calm. I give a call for Gujarat bandh on Wednesday. This decision has been taken by Patidar Anamat Andolan Samiti considering widespread violence in the state."
After detention of Hardik Patel, violence broke out like storm in Gujarat with agitations from Patel community in cities like Surat, Mehsana, Rajkot and other major cities. Patel Community individuals have been protesting against the government for over a month now to include them in Other Backward Class(OBC) category. Patel community is comprised of Leva and Kadava Patels which comprises of 12 percent of Gujarat Population. Patel's are well settled and have social status in society at the same time people from patel community are in politics and have powerful leaders. No party can ever forget Patel community, what could be the reason behind these protests and rallies..,
1. Is it a plan to oust Gujarat CM Anandiben Patel?
2. Is it manage local body elections winning, which is going to be held in Gujarat where BJP is facing trouble ?
3. Is it an attempt to support BJP or degrade it?