On Tuesday Union home minister Rajnath Singh officially declared 33 per cent reservation for women in all paramilitary forces that include Central Industrial Security Force (CISF) too. He emphasized the necessity to increase the women personnel number on raising one third of overall power of forces observing the share of women that just erected at 5.04 percent.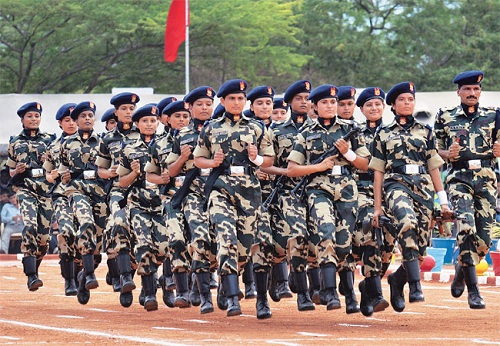 CISF was questioned by Rajnath Singh which involved actively in developmental pursuit at the regions affected by left-wing fanaticism. It is initiating to improve its capability in new areas of crime like cyber crimes dealing.
At National Industrial Security Academy (NISA) which is top ranked training centre of CISF during passing-out parade Union home minister said,
"In all paramilitary forces, women will be recruited by providing 33 per cent reservations."
In order to evaluate the head count of force, initiatives have been taken from existing 1.36 lakh to an imprecise of two lakh. Surender Singh, the CISF director general desire to make officers to awake and be ever ready to make NISA an undefeated training contributor.
Rajnath Singh also  awarded trophies for  individuals who have shown outstanding performance in various categories like shooting and indoor training. CISF takes care of Airports, Sea lines, Tourist attractions and Heritage structures in the nation. Trained personnel like Commandants and Sub-Inspectors were thoroughly trained to handle hostile situations like jungle warfare, Disaster Management, Airport Security, Security Management.