HPSSC Recruitment 2016: The Himachal Pradesh Staff Selection Commission has produced a hiring notification concerning HPSSC Recruitment 2016. Applying appellants can encounter the consequent data to the issued 1015 Teaching & Non Teaching Posts. Proficient competitors can download the advert in PDF format to get with respect to the whole guidelines and control for 1015 posts under HPSSC Teaching Non Teaching Recruitment 2016. The competitors are prescribed to apply from 20 May to 21 June 2016, it is better if you attempt to apply 3 or 4 days before from the closing date.
PGIMER Chandigarh Recruitment 2016
Our team has proffered here all fundamental and significant data for the candidates to check their worthiness, selection system and application charges. For whole data, the appealing candidates must download the official HPSSC Notification. The links to download official HPSSC Teaching Non Teaching Notification 2016 were given after the section below.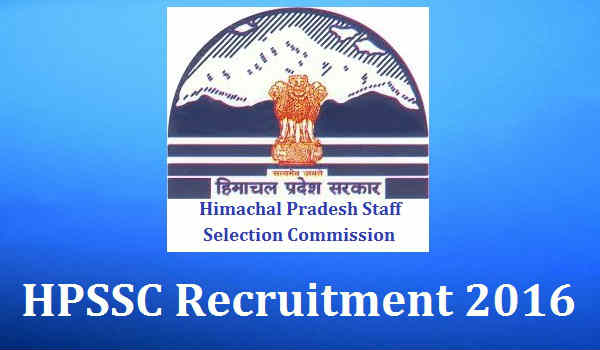 HPSSC Notification 2016
To apply HPSSC Recruitment 2016 appellants must have passed 10+2/Degree/BA/B.Sc from well known Board or University. Authorities are happened to choose the applicants with Interview. Contenders applying HPSSC Recruitment must pay online application charges according to HPSSC Notification 2016. The Himachal Pradesh government is giving most obvious opportunity to all appellants living in their state. All employment discoverers can participate in these accessible HPSSC Notification. Authorities to offer extraordinary compensation of as per designated post. There are totally 1015 accessible openings in the Commission. Apply applicant for these HPSSC Teaching Jobs must have age limit between 18-45 years.
HPSSC Recruitment 2016 Apply Online
Name Of The Commission: Himachal Pradesh Staff Selection Commission
Category : Govt Job
Name Of The Posts :
Ophthalmic Officer: 01 Post
Junior Auditor: 06 Posts
Steno Typist: 28 Posts
Mechanic (Electrical): 01 Post
Clerk: 103 Posts
Statistical Assistant: 04 Posts
Auditor (Panchayat): 05 Posts
Draughtsman: 01 Post
Surveyor: 05 Posts
Mining Inspector: 03 Posts
Motor Vehicle Inspector: 05 Posts
Mechanic (Printing) 01 Post
Photo Type Setter Operator: 01 Post
JE (Mechanic): 24 Posts
JBT (Visually Impaired): 02 Posts
JBT (Hearing Impaired): 01 Post
Braille Teacher: 02 Posts
Fitter: 21 Posts
Welder: 03 Posts
Crane Operator: 03 Posts
Paper Issuer: 01 Post
JE (Civil): 10 Posts
SR Asst (Accounts): 01 Post
JE (Elect): 01 Post
Supervisor: 02 Posts
TGT (Arts): 225 Posts
TGT (Non Medical): 145 Posts
TGT (Medical): 34 Posts
Sr Asst (Accounts): 08 Posts
Junior Officer (Environment): 04 Posts
Junior Officer (P & A): 04 Posts
Junior Programmer: 04 Posts
Computer Operator: 09 Posts
Sr Asst (Accounts): 02 Posts
Steno Typist: 02 Posts
Junior Office Assistant (Accounts): 79 Posts
Storekeeper: 26 Posts
Junior Scale Stenographer: 01 Post
Junior Coaches: 16 Posts
Bandman cum Guardsman: 14 Posts
Assistant Superintendent: 04 Posts
Group Instructor: 08 Posts
Junior Draughtsman (Civil): 55 Posts
Laboratory Technician: 01 Post
Radiographer: 01 Post
Statistical Assistant: 03 Posts
Youth Organizer: 03 Posts
Surveyor: 110 Posts
JE (Elect): 22 Posts
Total No.Of Posts : 1015
Location : Himachal Pradesh
HPSSC Teaching Non Teaching Notification 2016 Eligibility Criteria
Qualification: Candidates should possess Acedamic Qualifications as following
For Post No. 01: 10+2 with Science examination or B.Sc in Opthmology for Himachal Pradesh University or equivalent
For Post No. 02 to 05 & 07: 10+2 examination or identical
For Post No. 06: BA, B.Sc Preferbly with Maths, Economics
For Post No. 08: Matric Examination
For Post No. 09: B.sc Degree in Science from well registered University/Institute
For other detailed qualification data refer the main notification.
Age Criteria:
Age must be in between 8 to 45 years as on 01-01-2016.
Age relaxation is applicable up to 05 years for SC, ST, OBC, PWD, Children and Grandchildren of Freedom Fighters of HP.
Selection Methods: Candidates will be picked on the premises of Interview
How to Apply HPSSC Teaching Non Teaching Jobs 2016
Candidates can apply going through HPSSC main site. At home page read the issued advertisement keenly. Candidate must fill the application form with exact information without mistakes. Upload all important documents. Make sure to attach copies of important certificates. Process your applications from 20 May to 21 June 2016.
Important Dates:
Initial Date To Apply Online: 20 May 2016
Final Date To Apply Online: 21 June 2016 by 11.59PM
HPSSC Notification 2016 : Click Here
Official Site: himachal.nic.in