19 year-old intermediate student of Hyderabad died while performing a fire stunt. The deceased is recognized as Md. Jalaluddin, a resident of Jahanuma who was pursuing Intermediate second year.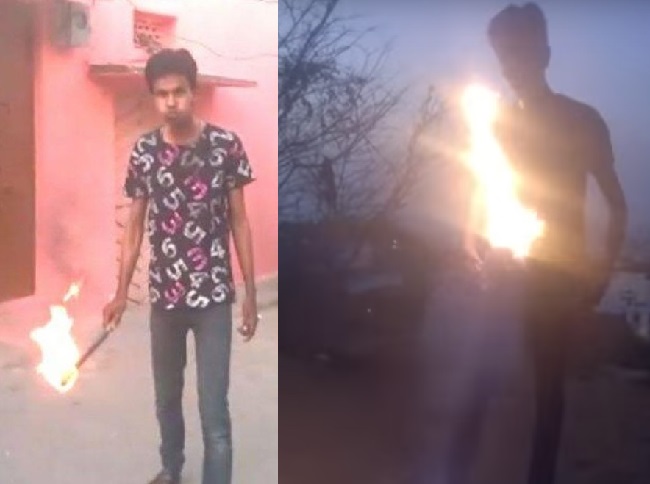 According to the reports, on 7th April 2016 evening the Jalaluddin and his friends went to the outskirts of Jahanuma in Falaknuma to imitate a fire stunt which was performed by experts in reality show.
Watch Hyderabad Youth Dies As Fire Stunt Goes Wrong
Jalaluddin inspired from India's Got Talent reality show which is broadcasted on Colors channel tried to perform a fire stunt by pouring kerosene on his shirt. Jalaluddin performed various stunts such as breathing fire from the mouth by spitting out kerosene.
The locals has warned him not to try such dangerous stunts. Jalaluddin as his next stunt poured kerosene on his t-shirt without taking any precaution and set it ablaze. The fire caught up and he could not remove his shirt, his friends and few local tried to extinguish the fire.
Hyderabad 19 years old Student Dies Reality Tv Fire Stunt Goes Wrong
After extinguishing fire Jalaluddin was immediately taken to Osmania General Hospital. Doctors said that the boy has suffered 54% burns. Md.Jalauddin died on Sunday i.e on 10th April 2016 while undergoing treatment.
Jalaluddin friends has recorded the whole incident on their mobiles and the video has been circulating over the social media. Police have registered a case under Section 174 (Suspicious Death) of CrPC.
Watch Hyderabad Student dies imitating Reality Show stunt