On Monday the International Cricket Council (ICC) charged Indian cricketer Ishant Sharma, Sri Lanka's Dinesh Chandimal, Dhammika Prasad and Lahiru Thirimanne for violating Code of Conduct with their impolite behavior at fourth day match in third Test. On Tuesday ie., the final day of deciding Test in Colombo at Sinhalese Sports Club ground ICC passed a message that further detailed information will be announced at the end of the match.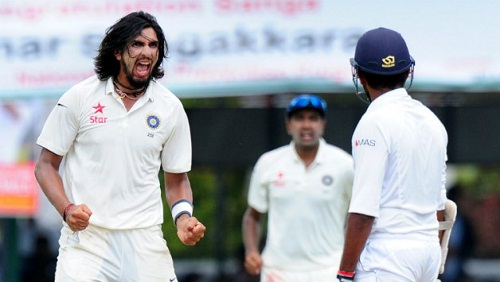 Ishant was fined with 65% of his match fee for his farewell, Chandimal and Thirimanne after disregarding them in the second Test. Thirimanne has been fined 30% for presenting demur nature after nagging at the crease before leaving away. On fourth day evening tempers have raised after number 11 Ishant addressed with bouncers by Prasad who was hit on his left hand while batting by bouncer from Indian pacer.
Fielding at slip Chandimal swiped Ishant before the umpires wave, to join his partner Thirimanne ran in from forward short leg whereas Ishant strikes his helmet and conveyed to hit him on his head to Sri Lanka pacer. Sri Lanka set uncertain 386 run as target of fourth where as Ishant screamed at Upul Tharanga after banishing him and reportedly hit his head after catching Chandimal. Besides second innings two wickets Ishant alleged five- wicket haul during first innings of Sri Lanka a total of 201 all out.