IIM Sambalpur, Orissa  has begun its classes for the first batch of Post Graduate Programme(PGP) with orientation of 49 students, including nine girls and 40 boys.
IIM Indore will be as a adviser for all activities in the Institute till it moves to the permanent campus or until it gets the ability to function on its own, whichever is earlier. During the mentorship period the classes will be conducted by IIM Indore's regular faculty besides guests lecturers. The PGP will reach the expectations in terms of quality, design and delivery.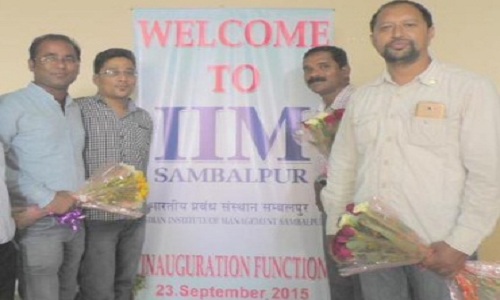 Professor Rishikesha T Krishnan, director IIM Indore and Mentor Director, IIM Sambalpur  admired the support and cooperation by state government and MHRD's for approval of the institute. He expressed his satisfaction for the infrastructure provided in the temporary campus. He added that the institute will take all necessary steps to make it one of the centre for excellence and said it will join hands with government for providing quality education.
Professor Pawan Kumar Singh, Faculty, IIM Indore declared that classes will begin today at temporary campus in Silicon Institute of Technology, Sambalpur.
An Inaugural ceremony has been conducted and was honoured by technical education minister Sanjay Dasburma.
Government has been sanctioned 200 acres of Land for IIM Sambalpur and the approval letter has been handed over to the district collector for setting up permanent campus.