Decades of dispute between India Bangladesh borders was solved yesterday with a friendly land swap deal. Thousands celebrated their joy upon clear border definition between the border nations and upon attaining citizenship. For over half a century thousands faced the problem of border settlement yesterdays incident brought mere joy when the two nations swapped land to finalize border line dividing both countries. At least 50 regions present in Bangladesh swapped their territory into Indian land with existing Pin code. This swapping let 14,856 people from Bangladesh enclaves in India and almost 37,000 people who used to live in 111 Indian enclaves situated in Bangladesh have attained citizen-ship of their choice.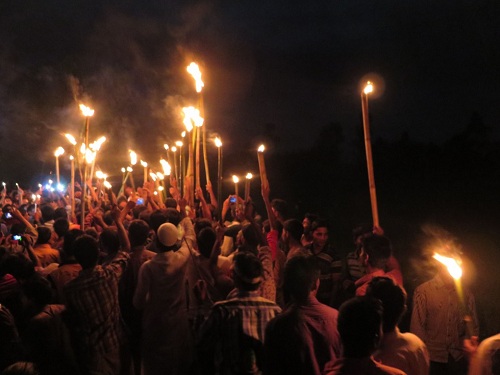 As soon as after the clock struck one minute after midnight, people celebrated their joy by firing crackers and dancing all the way. Thousands celebrated their happiness despite of monsoon rains in the region after they received a major set back regarding the border disputes in 1947 partition issues. Some even expressed their grief they have spent for 68 years with the dispute by lighting 68 candles to commemorate their celebration.
During 2011 survey, reports state that 37,369 people of Indian enclave live in Bangladesh and 14,856 residents of Bangladeshi enclave live in India. During yesterdays land swapping deal India transferred 17,158 acres of land to Bangladesh and received 7,110 acres in return. Relations between the bordering nations India and Bangladesh have been increasing ever since when Bangladeshi Prime Minister, Sheikh Hasina approved that no illegal insurgents will be allowed to creep raids in India.