India has thrashed as "absolutely false" charges that it barricaded a key exchange checkpoint on the fringe with Nepal in the midst of dissents over that nation's new Constitution even as it stressed that it is for the Nepalese individuals and parties to discover a commonly satisfactory arrangement. Our stand is clear, We would prefer not to be prescriptive. It is for the general population of Nepal and the political parties in Nepal to land at a commonly adequate arrangement something for which possession can be taken by all areas, Ministry of External Affairs representative Vikas Swarup said on Wednesday when asked in regards to India's stand on Nepal's constitution-drafting procedure.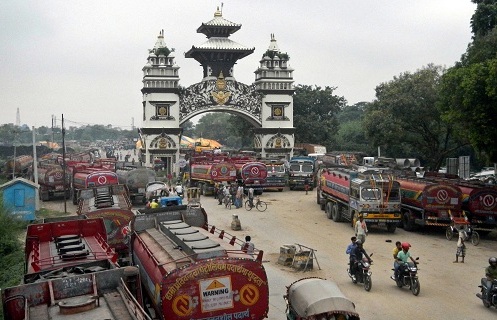 He was informing news reporters on the reciprocal and multiple engagements of External Affairs Minister Sushma Swaraj on the sidelines of the UN General Assembly session. Swaraj had a respective meeting with Nepal Foreign Minister Mahendra Pandey where she said that the charge that India had forced a barricade was "absolutely false".
"We can only take goods up to the border and beyond the border it is the responsibility of the Nepalese side to ensure that there is adequate safety and security for the trucks to enter that side," Swarup said.
He said that 4,310 trucks are holding up at the border yet can't continue into Nepal because of the exasperates security circumstance.
He included that Indian transporters had voiced protestations about the trouble they are confronting in development inside Nepal and the security fears because of the overarching agitation. On Wednesday, trucks from India conveying fundamental merchandise and petroleum items began entering Nepal which is thinking about a fuel emergency because of the barring of a key exchange checkpoint by dissidents restricting Nepal's new Constitution.
Around 100 heavy trucks have made it into Nepal near UP border Sunauli. The trucks had been waiting on the Indian side for over five days because of the continuous barricade forced by the Madhesi gatherings contradicting the declaration of the new Constitution.