India has stepped towards Israel to seek support for buying armed drones which could strengthen defence in the country. Army personnel stated that involvement of drones to carry out strikes will reduce life risk. Pakistan has recently attacked militants with its own drones and also threatened neighbouring nation over Kashmir issue. Indian defence was planning to buy Israeli Herons a couple of years back, Army has even written to centre to furnish drones as early as possible as neighbouring nations China and Pakistan are building their own technology.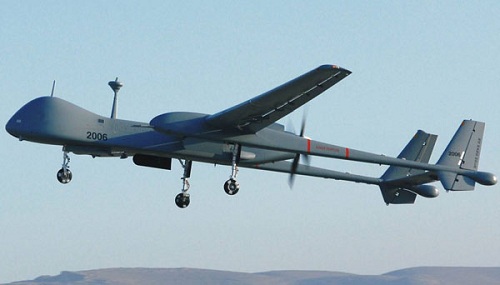 Indian Defence is already equipped with Unmanned Aerial Vehicles(UAVs) in Jammu and Kashmir to monitor borders and also for surveillance near China border to combat intruders. Indian government expressed positive intent to buy 10 Heron TP drones from Israel Aerospace Industries (IAI) which can help to battle with insurgents with minimal risk. However the defence ministry is reluctant to comment on the procedure. Heron drones deal with Israel is worth $400 million which can come in handy to counter strike cross border strikes.
Gurmeet Kanwal, Head of Land Warfare Studies stated that, Armed Herons will reach India by 2016 and will strengthen out air striking capability. United States has also used drones to strike Al-Qaeda and other militants bases, Pakistan government allowed America to handle killings. Indian drones are prone to detection in Pakistan radars and are being shot down recently.
Michael Kugelman, South Asia specialist from Washington DC stated, "Pakistan might worry that India could use an armed drone to attack terrorist safe havens in Pakistan or to target a specific terrorist there. India might worry that Pakistan will now be tempted to add drones to its repertoire of asymmetric warfare tactics it has used against India."
Centre is also planning to build drones from a local manufacturer with Israeli support as an initiative of 'Make In India' Programme.