Former Jammu and Kashmir Chief Minister and National Conference leader Farooq Abdullah confronted speculations over nuclear strike to deal with Kashmir issue. India will never let Pakistan to gain control over Kashmir and we would like to deal with the issue through 'move forward' basis. Kashmir Conspiracy has been the point of issue for both the nations ever since after Independence.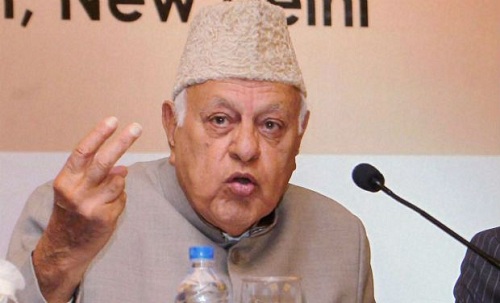 Abdullah quoted , "What is important is dialogue between the two nations to get to some point of understanding. One thing is absolutely clear: borders won't change how much countries want to change it, borders will not change."
Abdullah attended a meeting held titled 'A Conversation on Jammu and Kashmir' with former Research and Analysis Wing (R&AW) organized on behalf of chief A S Dulat, who is best known for authoring book 'Kashmir: The Vajpayee Years' last night. Journalist Ashish Ray anchored the event and Abdullah presided over meeting. Pakistan can never gain their hand over Kashmir, why people out side of the border are missing the point that they are harming Muslim population itself.
Abdullah said, " They bomb us and we bomb them. It is innocent people who dies. How long, 65 years. Enough. I would like to tell both India and Pakistan: For God's sake. Enough is enough. Let us get together and move forward rather than live in tragedies."
In accordance with ousting of NSA level talks among India and Pakistan, Sartaj Aziz serving as Pakistan National Security Advisor taunted India is underestimating Pakistan as a regional power, We have nuclear strength way larger than them.
"I would love to see the day I can drive right through to Islamabad, Karachi and Lahore. My grandfather, my uncle are buried in Lahore. I cannot go there. When I die you can not stop my soul from going there", Abdullah stated remembering India Pakistan partition.
One of the IPS officer who attended the meeting has said, As far as Kashmir conspiracy there is no leader in Pakistan who is much concerned that General Musharraf.