On Monday in China's Kunming city Indian and Chinese Armies commenced their fifth yearly anit-terrorism exercise as both the sides try to share their fruitful encounters in counter-terrorism operations amid the 10 day drill. India interestingly handled troops from Naga Regiment to join in the activities. On Sunday an unexpected troop of 175 from second Battalion of Naga Regiment from Eastern Command came to Kunming by IAF IL-76 airplane to participate in the activity.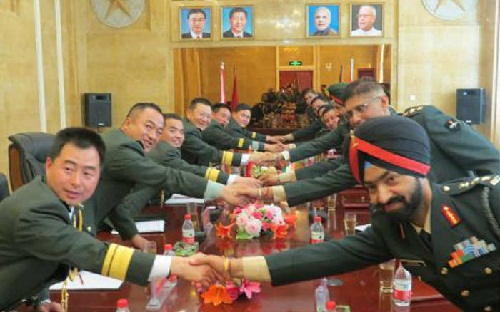 Indian Embassy said, for joint exercises both the sides are fielding the same number of troops which will finish on October 22. Troops from 14 Corps of China's Chengdu Military Region, which concentrates on fringes with India are taking in the activity. Troops of both sides will experience in-depth joint training which will incorporate presentations, demonstrations and an extensive joint activity. Exercise purpose is to create joint working capacity, offer helpful involvement in counter-terrorism operations and to advance well disposed trades between the Armies of India and China.
Indian Ambassador to China Ashok K Kantha and Head of Observers Delegation Lieutenant General Surinder Singh went to the meeting and tended to taking part in troops. Lieutenant General Zhou Xiaozhou from the Chinese side participated in troops while this is the fifth round of activities being held by both sides. The principal drill was held in southwest, Yunnan Province in China (2007) followed by drills in Belgaum in Karnataka (2008). The third round was held in southwest China's Sichuan (2013) and later the fourth in Pune (2014).