Indian Cricket Team All Rounder Hardik Pandya has become a star after his brilliant performance against Bangladesh in this ICC T20 World 2016. India vs Bangladesh match was held on 24th March 2016 at M Chinnaswamy Stadium Bangalore where Hardik Pandya's bowling at the last over led the Indian team to victory and this match made him an overnight sensation.
Indian Cricketer Hardik Pandya Life Story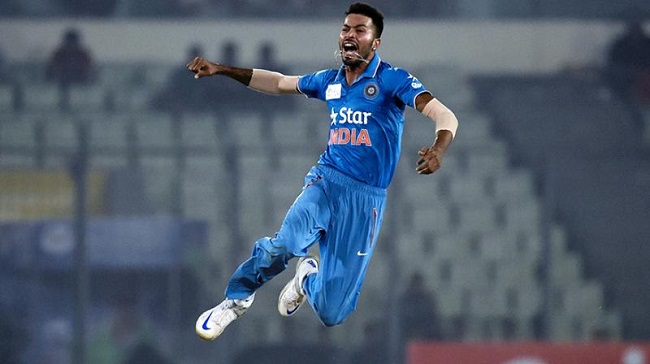 Hardik Pandya made his cricket debut with Indian Team on 26th January 2016 against Australia in a T20 match. He first came into the limelight when he played an crucial role in winning Syed Mushtaq Ali Trophy 2013-14 at Baroda, he was then selected in IPL 2015 by Mumbai Indians.
Indian Cricket God Master Blaster Sachin Tendulkar has also complimented Pandya during IPL 2015 saying he will be selected for Indian Cricket Team in next 12 months if he keeps up his performance. Sachin's words now came true, Pandya is now an official Indian Cricket Team member and a crucial all rounder.
Hardik Pandya Life Story
These are the facts of Hardik Pandya that everyone knows, but the life journey he has made to reach this position is known to only few peoples. Hardik Pandya is not brought up in a high class family and he is not well educated student. He came all this way on sheer hard work.
Hardik Pandya is from a poor family where he had to fill up his stomach on Rs.5 Maagi. There was a time when he had to eat only Maagi for one year. He is used to bring magi packet and eat it during lunch times at practice matches. He continued to do this for one year as he could not afford meals at that time due to financial problems.
His life totally changed and his hard work paid off when he was selected for Mumbai Indians in IPL 2015 where he scored 61 runs from 45 balls. Hardik Pandya said his best moment was when Sachin Tendulkar said that "in 1 year you will be selected for Indian Cricket team"
Hardik Patel received his first Check of Rs.10 lakh by Mumbai Indians. His life journey is the example of Hard Work Really Pays Off. Never quit, Never Stop Dreaming, Aim for the Top, Do your Best one day you will make your dream come true.