Experiencing a Long Road Trip with family is an once in an life time opportunity most of use wont able to achieve in this day to day busy life style. Pushing all the oddities apart an Indian Family made an Incredible adventure of Road Trip through 11 countries and 50 cities from Bangalore to Paris on a span of 111 days.
Indian Family Drove Car From Bengaluru To Paris in 111 Days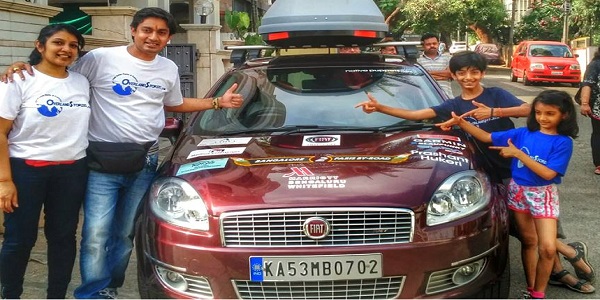 Meet the Baid Family of four who made this Adventurous Trip possible. Anand and Punita Baid, along with their kids Yash (12) and Dhriti (8), drove through 14,154-miles to achieve this incredible feet. All this started when Punita Baid is on a two month leave and Anand took a break form his online animation school in search of Sponsors. Initially Punita thought it was a joke but didn't expect that Anand would come back with an route map of how it could be done. After an seven months of planning and Numerous Mails were exchanged between 12 embassies and even the school principal of two is also convinced for an extra leave.
Starting at Bangalore on in 8th April 2015 they packed the most affordable and trusted car for four which is Fiat Linea Tjet. The family traveled through India, Nepal, China, Kyrgyzstan, Uzbekistan, Turkmenistan, Iran, Turkey, Greece, Italy, Spain, and France. Soon after the journey started they got stuck in Nepal for 5 days on account of an Earthquake that damaged the Road Transport. Even though this is one of their hardships they were a countless number of moments that were a good experiences to the family.
Giving themselves a nickname of LIFE( Little Indian Family of Explorers) during their journey the Family have experienced an rich and variety of culture, sights through their journey. The Road Journey is Chosen as there will be an flexibility to stop at a certain point to any point of time they like. Knowing about the family and their adventurous trip many families and restaurants would offer food for free. Facing a big problem of being an vegetarian family they carried an portable stove and some utensils to cook in just any place possible.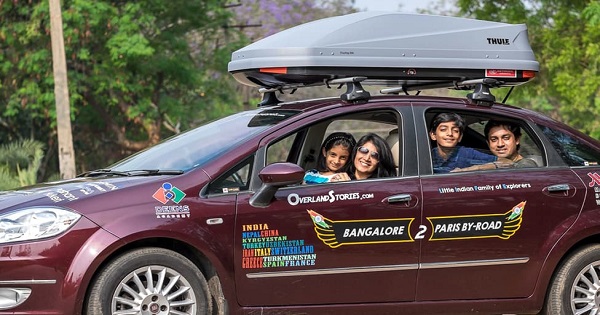 Some of the Highlights of the Trip are 
Driving past the Himalayan mountain range in Tibet at 17,000 feet
Climbing sand-dunes in Western China
Witnessing temperatures from minus 6 to 42 degrees
Sudden snow falls and swimming in the second largest lake in the world, in
Kyrgyzstan
Visiting the world's largest burning crater, Darvaza,Turkmenistan
Swimming in the world's largest land-locked water body, Caspian Sea in Iran
Seeing the unique landscapes of Turkey
Experiencing the Italy's beautiful architecture of Leaning Tower of Pisa, Vatican City and the Colosseum
The Journey Ended at Paris by Visiting the Palace of Versailles and the Eiffel Tower. The family opted to get back to India through flight. Their Car Shipped back home one month later, with the fifth member of family(the car) the Baid Family reunited once again.