Nine year old Indian school student became new spelling champion of Australia winning prize amount of $50,000 in 'The Great Australian Spelling Bee' contest. On Tuesday, Indian boy Anirudh Kathirvel born to Tamilian couple in Melbourne won $50,000 education scholarship besides massive $10,000 worth chattels for his school.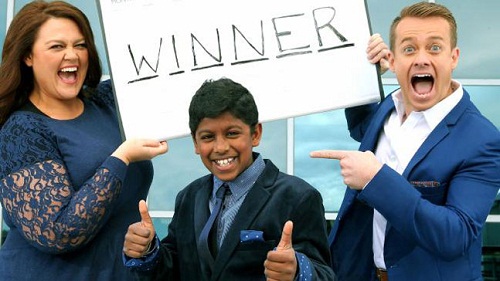 A soon as he won scholarship Anirudh could not believe his luck and asked his fellow spellers to pinch him. Anirudh expressed his happiness through his words,
"I need to rub my eyes and see if this is a dream. Nope, Nope, Nope, Real. I can't describe it. It's like the best day of my life."
He further said out of all, his favorite word to spell is 'euouae' as he liked the formation of word because it is the largest word with successive vowels. He even mentioned few other words which he like to spell are,ombrophobous, cephalalgia, feuilleton and said he love to watch Indian movies.
16 years ago Anirudh parents Prithviraj and Sujatha migrated to Australia who are actually Tamil origins. Australian Spelling Bee said,
"I started reading from the age of two and slowly my reading passion evolved into my love for words. My parents encouraged and helped me to build up on my spelling. My first spelling competition was when I was in grade 1. But my first year in the spelling competition was challenging. Gradually my confidence increased and I was pushing my spelling abilities to its limits. That's how my spelling journey has begun."