Indian women's Archery team has qualified for playing in 2016 Rio Olympics. Archers Deepika Kumari, Rimil Buriuly and Laxmi Rani Majhi have given a combat performance against German team in the 16th round of World Championships at Copenhagen. This win has not only advanced them into quarter finals but also confirmed their position for Rio Olympics. Negative applause which Indian archers were carrying on their backs was also cleared with the win.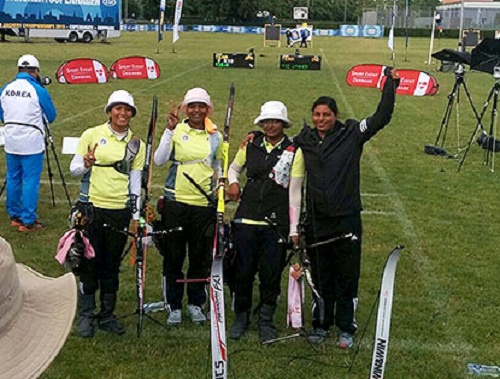 Recently at National Ranking tournament in Patiala conspiracies raised where players received allegations that they were intentionally performing badly so as not to let others to represent India. Indian archers also missed bronze medal during World Universiade Games conducted at Gwangju, South Korea. After which Jiwanjot Singh and three archers including Kanwalpreet Singh were banned from playing tournaments.
Archer Rimil Buriuly said,"Us winning the quota covers for all bad publicity that we generated for bad form or any mistake. It is certainly one of the better days that we have seen is sometime."
Selecting for Rio games seemed almost impossible for the trio as they did not perform well during the qualification rounds and were placed in 10th position with 1907 points. Women Archers successfully won against Colombia with 6-2 but had to fight hard against Japanese in the semi-final. A hat-trick scores from women archers trio has clear their way into Rio Olympics.