Infocus is an American company founded in 1986. It manufactures smartphones, tablets, LED televisions and also LCD projectors. Infocus had launched a new smartphone named Infocus Bingo 10 on March 21st. The price of the mobile is Rs 4,999. This phone uses Android 6.0 Marshmallow Operating system. It is the first smartphone with Marshmallow OS at lowest price.
Infocus Bingo 10 Review
The smartphone Infocus Bingo 10 is the third model in Infocus Bing series. Firstly Infocus launched Bingo 21 and Bingo 50 and later Infocus Bingo 10. They launched Infocus Bingo 10 with Marshmallow OS. Sachin Thapar who is the head of Infocus company stated that they are providing Marshmallow at lowest price to meet all the high-end smartphones and everyone should able to use this OS. He also gave a statement by saying this will be helpful for the age group of 15-24 years.
Infocus Bingo 10 Features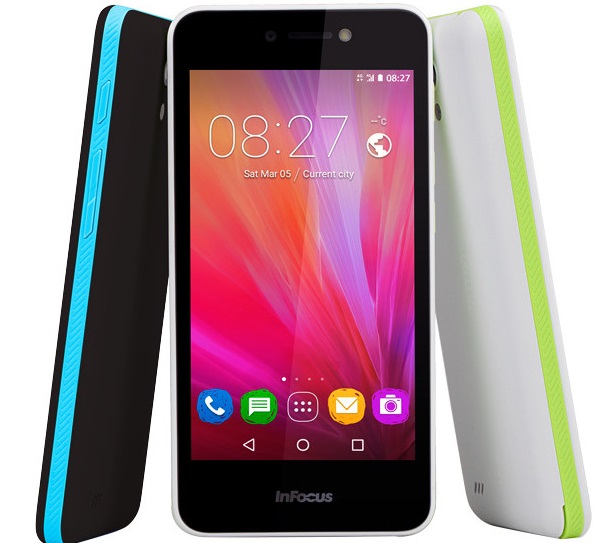 The display used in Infocus Bingo 10 is 4.5-inch FWVGA display with resolution 480X854 px and the processor used in the mobile is 1.3GHz quad-core Mediatek processor. RAM used in this smartphone is of 1 GB. Internal storage is of 8 GB and can be extended up to 64 GB using micro SD card slot. The weight of the smartphone is 140 grams.
Infocus Bingo 10 Price In India
Coming to its connectivity it supports dual SIM with 3G connectivity, Bluetooth, Wi-Fi, A-GPS and micro USB port.Camera used in this mobile is 5MP front and back side with LED flash. Infocus Bingo 10 uses a battery of 2,000mAh. Infocus Bingo 10 available colors are white with green twist or black with blue twist.
Infocus Bingo 10 Specifications
Display: 4.5-inch
Operating System: Android 6.0 Marshmallow
Camera: 5MP rear and front
Battery: 2,000mAh
RAM: 1GB
Memory:8GB
Processor: 1.3GHz quad-core Mediatek MT6580M
Connectivity: Micro USB port, Bluetooth 4.0, Wi-Fi 802.11b/g/n
SIM: dual