Naval warship INS Kochi, the stealth guided rocket destroyers, will be launched today by Defence Minister Manohar Parrikar at the Naval Dockyard in Mumbai. INS Kochi is the second ship of the Kolkata-class (Project 15A) Guided Missile Destroyers. The agreement for three ships of Kolkata class was marked as take after on of the incredible Delhi-class Destroyers, which were introduced into the Navy over 10 years prior, a defence personnel stated.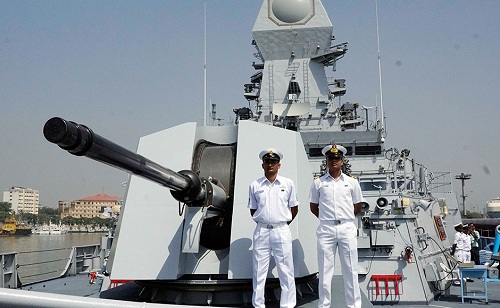 The warship is outlined by the Navy's in-house association, Directorate of Naval Design, and it is built by Mazagon Dock Ship manufacturers Ltd in Mumbai. It has displacement of 7,500 tons and it is 164 meters long and 17 meters at the beam.The boat is impelled by four gas turbines and intended to accomplish speeds in over-abundance of 30 bunches. The boat has a supplement of around 40 officers and 350 sailors.
INS Kochi is equipped with a variety of cutting edge weapons and sensors, with a huge indigenous segment. The boat has numerous deadly weapons which incorporate the beneficial fitment of vertically propelled rocket framework for long separation engagement of shore and ocean based targets.
The ship is one of only a handful couple of warships of the world and the second in the Indian Navy to have Multi-Function Surveillance and Threat Alert Radar to give target information to Long Range Surface to Air Missile framework.
The ship can be termed as a 'System of Networks' as it is outfitted with Ship Data Network (SDN), Combat Management System (CMS), Automatic Power Management System (APMS) and Auxiliary Control System (ACS). The SDN is the data expressway on which information from every one of the sensors and weapons ride.