Indian Railways Catering and Tourism Corporation has launched a new scheme which called 'Stating-based-e catering services which allows the passengers to order food of their choice, where the private caterers will deliver food to the passengers at the railways stations.
As the first phase of this pilot project, all the trains passing through 45 railways stations including nine in the east zone, namely Howrah, Sealdah, Guwahati, New Jalpaiguri, Patna, Bhubaneswar, Visakhapatnam, Kharagpur and Mughalsarai are included in the list.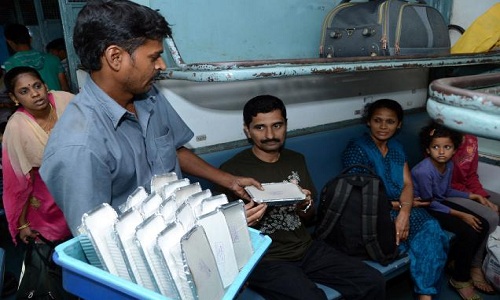 The other stations are  New Delhi, Allahabad, Kanpur Central, Lucknow, Varanasi, Chennai Central, Mumbai Central, Delhi, Bangalore city, Madurai, Amritsar, Thiruvananthapuram Central, Chandigarh, Gorakhpur, Varanasi, Jaipur, Bilaspur, Anand Vihar, Hazrat Nizamuddin, Ludhiana, Secunderabad, Tirupati, Vijayawada, Chennai Egmore, Ernakulam, Kozhikode, Thrisur, Yasvantpur, Nagpur, Pune, Agra Cantt, Gwalior, Jhansi, Bhopal, Ahmedabad, Surat and Vadodara.
"Station-based e-catering will be only for stations and not on moving trains. The service will allow passengers to either order meals online at www.ecatering.irctc.co.in or by calling 0120-2383892-99/ 1800-1034-139 (toll free) or by sending SMS Meal to 139 with details of PNR and seat number and the meals will be delivered at their berth," IRCTC group General Manager, East Zone Debashis Chandra.
Besides meals the passengers can also fast food from McDonald's, KFC, Switz Foods, Only Alibaba, Dominos, Haldiram, Bikanerwala, Nirualas, Sagar Ratna, Pizza Hut. The menu have been prepared on collaboration with the IRCTC to serve a wide variety of items.
The delivery of the food will be done by the authorized person and passenger can make the payment via online or through cash on delivery method.
The passenger also have an option to cancel the order two hours before the scheduled delivery time and the payment is refunded in case if the passenger have paid the money through online mode after deducting cancellation of charges.
Talking about prices, Chandra said  "Food prices are to be market-driven but we are focused that the food items supplied are hygienically packaged in eco-friendly, bio-degradable take-away packets and usage of plastic for packaging must be minimal if not totally eliminated. In fact, we will conduct regular checks of stations to ensure that meals items are provided to the passengers."
Customer service has been launched for the sake of passengers which will work from  6 am to 10 pm.
Additionally, IRCTC is also serving passengers with Jan Aahar and fast food cells.
This pilot project will be conducted till the end of March 2016 and a feedback will be conducted on the performance.