Indian international actor 'Irrfan Khan' determined to enter film industry after watching veteran actor 'Mithun Chakraborty' in 1976's  'Mrigayaa' film in which he presented National Award winning performance. Irrfan along with his co-star Aishwarya Rai Bachchan visited 'Dance India Dance 5' sets on Tuesday and spoke about his personal contact with Mithun who is well seen as 'Grandmaster' on dance reality show in a popular TV channel. Irrfan stated he was inspired by Mithun da and desired to become actor like him. He even said he would like to copy Mithun's attitude and style to his best.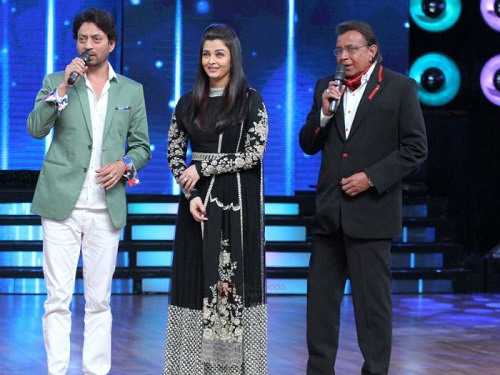 Actor said, he has spent many hours at barber shop to brag dada style by straightening his curly hair. But unfortunately in those days there would only be blow dryer by which they can do only temporary straightening that would last only few hours. So it would left him with untidy look with half straightened and half curly. He would try to imitate every aspect of dada from style to dialogue delivery. He says Mithun was difficult to copy, it was very non- viable for him to attempt original Disco dancer moves.
Piku actor said, "Mithun da was my inspiration to become an actor and it was only when I saw his acting in the National Award-winning film 'Mrigayaa', I realized the desire to get into acting and become like him. I would try my best to copy dada's style and attitude. From dada's style to his dialogue delivery, I would try to emulate everything, barring one skill which I knew from the beginning was not just difficult, but impossible to copy. It was the original Disco dancer's killer dance moves that I never attempted as I consider myself to have been born with two left feet."
Aishwarya and Irrfan featuring episode could be watched on Zee TV which will air on Sunday. The duo appeared on show on their movie 'Jazbaa' promotion. 'Jazbaa' is directed by Sanjay Gupta and also features Jackie Shroff, Atul Kulkarni and Shabana Azmi which is slated to release on 9th October.