Dukhtaran-e-Millat also known as activist islamic women's group, whose chief personnel Asiya Andrabi  was held on Friday for igniting anti national sentiments like waving Pakistani flags on various occasions and presiding over a conference in Pakistan over mobile. This Woman activist has also celebrated Pakistan Independence Day which commences on the eve of Indian Independence Day. Andrabi was arrested and was moved to Women's police station in Srinagar.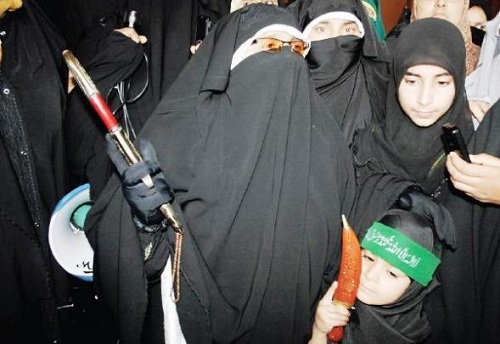 Asiya Andrabi had addressed group of activists in Pakistan and supported them, which ignited whole lot of controversy in India recently. Rally was hosted by terrorist who was behind Mumbai attacks, Hafiz Saeed who is also the head of Pakistan terrorist group Jama'at-ud-Da'wah. She addressed rally in Pakistan on its Independence Day Celebrations. Andrabi congratulated people of Pakistan on Independence day and waved their nations flag in Srinagar along with her supporters.
Initial reports confirm that Asiya Andrabi was arrested was arrested at her residence in Srinagar. She was charged under multiple cases in connection with recent issues for allegedly waving Pakistani flag in India and addressing neighbouring nation conference over phone.
"Andrabi has been arrested in connection with the case registered under Section 13 of Unlawful Activities Act on August 17," Jammu Kashmir Police personnel have stated.