Jabardasth a popular Telugu comedy Tv show has again landed in court case. Jabardasth is No.1 comedy show in Telugu Television Industry. The show was started in 7th February 2013. The show will be aired on every Thursday on ETV from 9.30 PM to 11.00 PM. At the beginning the show runned smoothly but later it was dragged in to controversies.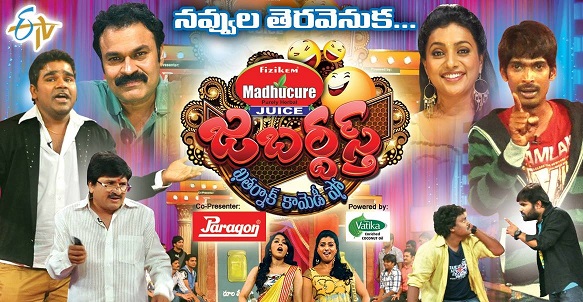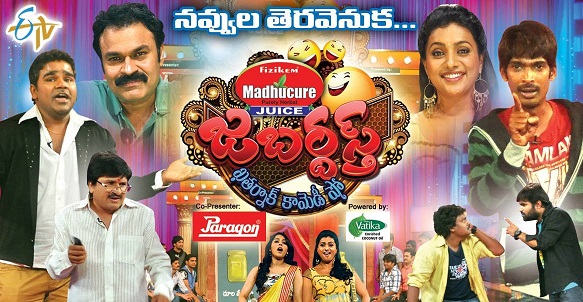 Jabardast Comedy Show is produced under Mallemaala Entertainments Pvt Ltd. Megastar Chiranjeevi brother Naga Babu, Actress and YSRCP MLA Roja are the Judges of the show. Earlier anchor Anasuya hosted the show, she suddenly quit the show as hot and now anchor Rashmi Gautham is hosting the show. There have been lot of rumours on Anasuya leaving the show, but none were officially confirmed.
Samantha Soul Stirring Happiness Prathyusha Support
Jabardasth Comedy Show landed in many legal trouble recently and also been in the controversies. Be it the anchor dresses or comedy skits performed by the Team leaders, one way or the other the show always made headlines.
Previously some people even attacked Team member of Jabardasth Comedy Show for doing skit on the religion and caste. From past few months the skits performed on the comedy show are having Double Meaning dialogues which have stirred up the controversies more.
Recently a skit was performed on Lawyers, which was the reason that lead to the court case. Some lawyers have filed a case against Jabardasth Comedy Show for offending their duty and hurting their sentiment. This was not the first time the show facing such legal troubles. After receiving the petition from the lawyers, the court has now sent notice to the Jabardasth Comedy Show team that has performed that skit. At present, there is no news form the team member and show unit regarding the notice. Let us see how will Jabardasth Comedy Show team respond to the case.
Will Jabardasth Comedy Show be stopped or will continue like always. Check this for more updates on Jabardasth Comedy Show.