Tamil horror comedy film Jackson Durai is all set to release its Official Trailer. Get ready to look at the horror trailer that brings goosebumps by watching it. Jackson Durai is written and directed by Dharani Dharan. Movie stars starring Sibiraj, Sathyaraj and Bindu Madhavi as the main leads. Karunakaran will be seen playing crucial role.
Jackson Durai Movie Official HD Trailer
This is second directorial project of Director Dharani Dharan after Burma in 2014. The film started its production work in May 2015 announcing it to be a horror thriller set in the 1940s. Sathyaraj, Rajendran and American actor Zachary roped in to play very pivotal roles.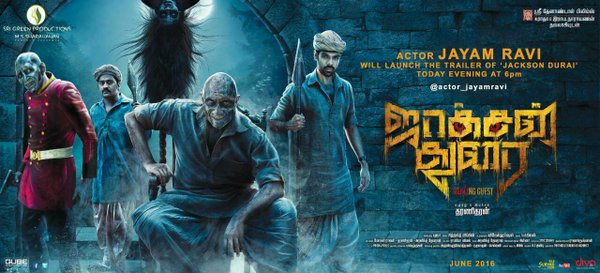 As per source, Sibiraj will be seen playing a role of a person who saves all his villagers from the threats of ghosts. Bindu Madhavi grabbed the chance to play female lead and Karunakaran portrays an important role. Currently the film unit is under shooting progress.
Jackson Durai Movie Trailer
Burma fame director Dharani Dharan is concentrating on the horror film for the first with Sibiraj. His father, most famous actor Sathyaraj is to play the ghost character in the film besides Naan Kadavul fame Rajendran. Siddharth Vipin has given sound score for the film Jackson. Durai M. S. Sharavanan is producing the film. Yuvraj is handling Cinematography work while the editing part is given to Vivek Harshan. Film's budget plan is mounted to 20 Crores.
Also Watch : Dharma Durai Movie Teaser
Jackson Durai Tamil Movie Trailer
After Naaigal Jaakirathai, Sibiraj will be again seen playing police officer role in Jackson Durai. This film will be completely a horror movie where Sibiraj as a police man comes to the village that has been hunted by fiendish ghosts for a long time of 100 years. The Sibiraj comes across different incident which shapes core of the story.
Watch Jackson Durai Official Trailer