Initial reports claim at least 11 were dead after stampede took place at Lord Shiva temple at Deoghar, Jharkhand where devotees tried to jump queue in the morning hours around 5:00 AM. Devotees who lost their lives were identified as people from Uttar Pradesh and Nepal mostly. Injured were rushed to the local hospital for medical ailments after the incident.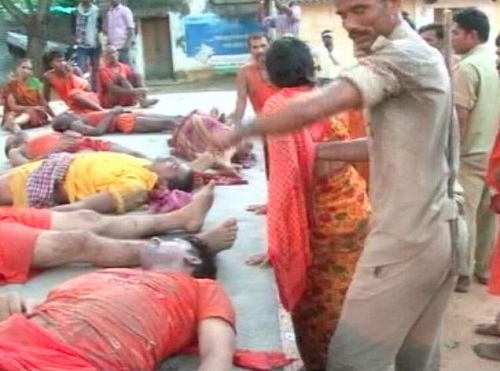 Police personnel stated that hundreds of devotees were gathered to offer holy water to Lord Shiva at Deoghar temple, where all of a sudden stampede took place killing at least 11 and injured many. Death toll might increase from
initial numbers as people are badly injured as far as initial reports.
During August, Shravani Mela is considered popular in Deoghar where devotees offer holy Ganga water to Lord shiva on Mondays. At least 2 Lakhs devotees were present at the temple on Monday morning for offering pooja.Pilgrims collect holy Ganga water near Sultanganj, Bhagalpur at Bihar and walk almost 98 kms on feet to offer Lord Shiva at Dham temple near Deoghar.
Bharatiya Janata Party (BJP) MP from Godda, Nishikant Dubey said," I take full responsibility of this. I find myself guilty.11 people have died. We all should be held responsible for not being able to make adequate arrangements. We will take lesson from this".