Kabali Movie Introduction Scene Leaked Online
The most awaited flick of the year Kabali is going to hit the theaters on 22nd July 2016. A huge number of audience are eagerly waiting to watch the movie. But before the release of the movie Kabali, it has been leaked on social websites like youtube, WhatsApp, and Facebook. A bit of 2 minutes movie is now going viral on all social media. Rajinikanth's film Kabali is directed by Pa. Ranjith. Kabali team has planned to release the movie grandly and created a hype, but to all surprise it Kabali Movie introduction Scene Leaked before the release date.
 2 Minutes Kabali Movie Opening Video Leaked
Earlier we have heard some rumors regarding the leak of full movie on online, but later it was taken as a false statement. Kalaippuli S Thanu, the producer of Kabali movie stated that they are planning to release the movie with great efforts and blocking the piracy sites. But now the rumor came true. Two minutes video of Kabali movie is now creating a sensation in the film market. The leaked video version of Kabali is in Tamil and we also find English subtitles below. By all these information we can say that Kabali Movie introduction Scene Leaked in the foreign country.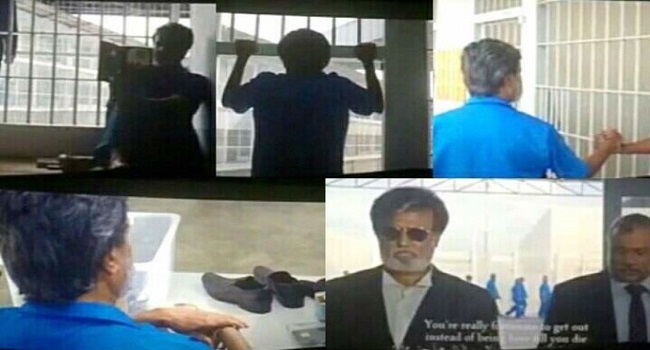 In the video we see Rajinikanth sitting in a prison and reading the book of YB Sathyanarayana titled "My Father Baliah". And then he closes the book and walks out of the prison by waving his hand to the other person sitting in the adjacent cell. On passing the prisoner speaks with Rajinikanth by saying "Rende maasam ne, ungalukaga naan minukku vanthu Nippen ne." , which means " Bro, i will be back in two months and there after i will stay with you. By lisiting his conversation with Rajinikanth, remaining prisoners claps and says good bye. But Rajinikanth silently walks towards Jailer.
Introduction Scene From Kabali Gets Leaked
After that Rajini uses his thumb finger to sign which states that he acts as illiterate in the movie Kabali. Later the completion of all the formalities, he removes the jailer dress of blue shirt and pant. Rajinikanth then wears his coat, suit, and boots.
Exclusive : Kabali 1st Day Collections Report (Expected 100cr in 3days)
He then opens his wallet and stares at the photo of Radhika Apte. Then he walks out of jail and the person who is escorting him says it is your fortune to get out of the jail and recently 40 were killed in encounter out of which 30 are Tamilians.
Book Your Tickets : Kabali Movie Tickets Online Booking 
Rajini Kanth Kabali Movie First Scene Got Leaked
The news of Kabali leak is now been a hot topic among the public. Producer S Thanu has approached the Madras High Court and asked to stop the illegal download of Kabali movie. He also asked all the Rajini fans to watch the Kabali movie only in theaters and stop the piracy.
Also Read : Kabali Airtel Sim Card Launched