People's President Abdul Kalam's body was received by innumerable people mourning all over the streets of Rameswaram. Kalam's deceased body was moved to his native place in Tamil Nadu on Thursday morning. Prime Minister, Narendra Modi will be attending the funeral at Pei karambu which is near Rameswaram. Central Ministers Manohar Parrikar and M.Venkaiah Naidu have already moved to Rameswaram.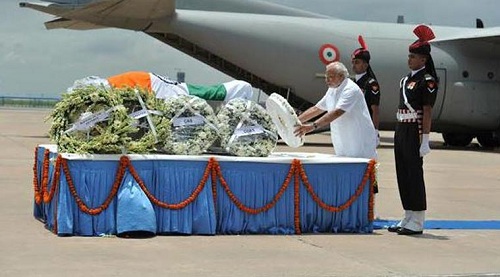 Thousands of people are arriving at Rameswaram this morning to pay their due respect to most lovable president. Students from all over the state and people flocking from National Highways with Kalam's posters are approaching Rameswaram to pay their tributes. Karnataka Chief Minister, Siddaramaiah has already Rameswaram and Tamil Nadu Chief Minister, Jayalalithaa is ill and cannot attend the funeral. Every hotel surrounding Rameswaram is booked for two days as people have flooded in great numbers for Mr.Kalam's funeral.
Kalam's death has shocked the nation and the whole country went mourning, thousands have gathered near his home at Delhi to offer condolences after his demise. Dr.Kalam died at the age of 83 suffering a massive heart stroke on Monday while delivering a lecture at the Indian Institute of Management in shillong. Kalam was honored with India's prestigious awards and was often termed as the Missile Man of India.