Kamaal Rashid Khan has again made controversial comments on Pawan Kalyan. Previously he called Pawan Kalyan a joker on Twitter which has stirred up the power star fans and trolled KRK on twitter. But everyone knows that Kamaal R Khan has no shame and he will never stop talking bad about other celebrities. KRK calls himself No.1 movie critic and a big Bollywood actor but the truth is he is big looser and has nothing to do so he does these cheap publicity stunts to stay in the lime light.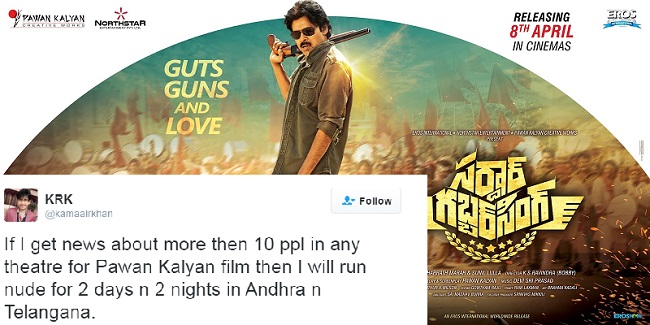 Even after getting trolled by pawan kalyan fans but Kamaal R Khan did not learn his lesson. Recently Kamaal R Khan and Ram Gopal Varam had a twitter war on pawan kalayan. As the pawan kalyan latest movie sardaar gabbar singh is getting ready for release, RGV took twitter to express his opinion by tweeting. Soon after the RGV tweet KRK started making fun of pawan kalayan which led to twitter war between KRK and RGV.
Sardaar Gabbar Singh Review By Umair Sandhu
Kamaal R Khan Challenged Ram Gopal Varma saying he will naked in Andhra Pradesh and Telangana states for two days and two nights if more than ten people watch sardaar gabbar singh movie. He even challenged pawan kalyan saying come to Mumbai and talk one word against him. These tweets have definitely hurted pawan kalyan hard core fans. Its better for KRK to stay in safe place if he do not want to face the wrath of fans.
Sardaar gabbar singh Hindi dubber version will be released in 800 screens in Bollywood on 8th April 2016. We have to wait and see how the movie is going to turn out. If the movie is success it is going to be a tight slap on Kamaal Rashid Khan face and if movie fails what KRK said about Pawan Kalyan will become true.
Sardaar Gabbar Singh Movie Tickets Online Booking
But it is first time such a debate has been on made a movie, we have seen these challenges made by models and actress on cricket team. We have to wait and see until 8th April to know whether Kamaal R Khan will run or not?. Check out below for RGV and KRK tweets on Pawan Kalyan.
Compared to 1.5 kilometre long line for Bahubali on 1st day outside Prasad I max..very curious how many kilometres long line SGS will have

— Ram Gopal Varma (@RGVzoomin) April 5, 2016
Hahahahaha sir I guarantee for 0 km. @RGVzoomin https://t.co/Dk1pggHJEJ

— KRK (@kamaalrkhan) April 5, 2016
@kamaalrkhan Mr.KRK understand PK is bigger than any star in world ..kilometre lines outside Mumbai theatres will prove my point

— Ram Gopal Varma (@RGVzoomin) April 5, 2016
Ok @RGVzoomin! But if film will become washout n 0Km line then u shud accept tat our Ayushman is bigger star than PK https://t.co/i2qFMPxdDb

— KRK (@kamaalrkhan) April 5, 2016
If Pawan Kalyan (look a like Rajpal Yadav) will give free ticket+transport+cold drink n popcorn, still we ppl will not go to watch his film.

— KRK (@kamaalrkhan) April 5, 2016
Pls stop comparing Sarkar @RGVzoomin If Prabhas is Salman Khan of Bollywood so Pawan Kalyan is Ayushman Khurana. https://t.co/GgaP6E4Emg

— KRK (@kamaalrkhan) April 5, 2016
Mr. @RGVzoomin forget PK fans, you ask Pawan Kalyan himself to come in Mumbai n say one word against me n then see. It's my territory Boss.

— KRK (@kamaalrkhan) April 5, 2016
Mr @RGVzoomin tday ppl know abut Pawan Kalyan n his film in Hindi territory only coz of my tweets n your tweets, otherwise nobody knows him.

— KRK (@kamaalrkhan) April 5, 2016
Me The No.1 critic has made Pawan Kalyan famous in Hindi territory otherwise our Maha flop actor Rajkumar Yadav is much bigger star than him

— KRK (@kamaalrkhan) April 5, 2016
If I get news about more then 10 ppl in any theatre for Pawan Kalyan film then I will run nude for 2 days n 2 nights in Andhra n Telangana.

— KRK (@kamaalrkhan) April 5, 2016
@kamaalrkhan Mr KRK be prepared to become nude becos u don't know PK ..I know that u were right on Bombay velvet but u will be wrong on SGS

— Ram Gopal Varma (@RGVzoomin) April 5, 2016