Congress led Karnataka Government has taken an initiative to which has taken over as a storm to stop farmers suicides. Government is campaigning with a full information which features all mechanisms right from audio-visual mediums to Social media deliverance. There have been a continuous outrage of farmers suicide over the past 45 days in the state. Karnataka Government will be helping the needy farmers through SMS, Calls, WhatsApp, Twitter and Facebook news information right from the Chief Minister's State Information and Agriculture wings. Deputy commissioners have also taken the initiative to directly interact with the farmers families so as to potentially minimize deaths which has become an outrage with the slogans of activists in the state.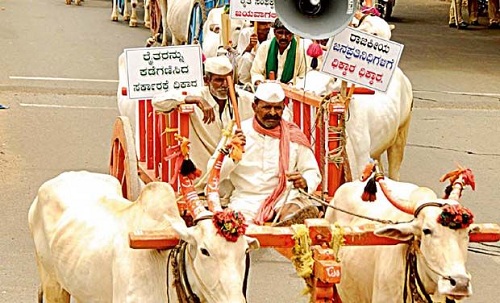 Government is also thinking of involving film stars for the campaign and also working on other means which Telangana and Maharashtra governments have followed to stop farmer suicides. Agriculture Minister, Krishna Byre Gowda said, We are doing the best we can to stop farmer suicides in the state.
Gowda stated," We are aiming to point out the message that suicide is not the solution for their problems, take a moment think of your families at least let us know what we can do for you".
Government has aired a 5 Minutes Audio-Visual message all over Karnataka which has background music composed by Hamsalekha and directed by Janni, was shown at all Panchayats with mobile van theater to uplift depressed farmers. The visual is also featured with Chief Minister Siddaramaiah and other leaders appeal for farmers to stop suicides.