Mammootty Kasaba Teaser: Imminent Indian Malayalam Movie Kasaba is written and directed by Nithin Renji Panicker. The main lead role in this film is Mammootty and we see Naha Saxena, Varalaxmi Sarathkumar and Jagadish in supporting roles. Rahul Raj took up the music for this film. Cinematography is done by Sameer Haq.  Mansoor Murthy took the editing part. The movie works under the production company Goodwill Entertainments. Kasaba movie came on to sets in Jan 2016 and its now ready to launch the teaser, music and film one by one.
Mammootty Kasaba Movie First Look Trailer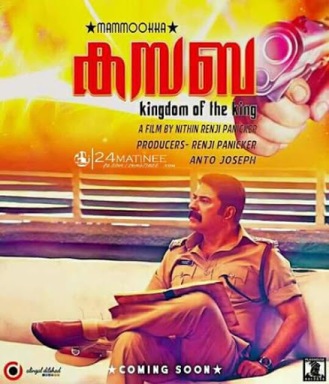 Forth coming Malayalam movie Kasaba is presently facing trouble. The teaser of the film was leaked before its official release. Actually the official trailer of Kasaba is scheduled to be released on 25th June 2016. But it got leaked before one day of the release and is going viral on social media like Facebook, Twitter and Whatsapp. The teaser of the movie Kasaba is for 37 seconds and it has been leaked before its release. After knowing this news, the movie unit deleted the video by taking the help of YouTube authorities.
Kasaba Malayalam Movie Cast & Crew
| | |
| --- | --- |
| Movie | Kasaba |
| Lead Role | Mammootty |
| Supporting Roles | Naha Saxena, Varalaxmi Sarathkumar and Jagadish |
| Director | Nithin Renji Panicker |
| Music | Rahul Raj |
| Editor | Mansoor Murthy |
| Cinematography | Sameer Haq |
| Production Company | Goodwill Entertainments |
| Teaser Release | 25th June 2016 |
| Release Date Of Movie | 7th July 2016 |
Kasaba Malayalam Movie Official Trailer
In this film we see Mammootty in a role of police officer acting the CI Rajan Zacharia character. The female lead roles in this movie are Neha Saxena and Varalaxmi Sarathkumar. The Kasaba movie is going to hit the theaters on 7th July 2016. The first look Posters of Mammootty in this film got trolled on social media. Kasaba movie makers are worried and are in confused state of how the teaser was leaked.
Kasaba movie team later stated that the leaked one is not the actual teaser. It was just a promo cut designed during the make of teaser. The released promo was just made by using background music of some telugu movies like Nannaku Prematho and Gabbar Singh. The team also mentioned that they will soon identify the person who is responsible for leakage of teaser. In the leaked teaser we find Mammootty in a police officer appearance with few movements.