Bollywood glam actress Katrina Kaif elucidated her views on her movie 'Phantom' and the foul aura its facing in the neighbour country. Recently Pakistan's Central Bureau of Film Certification has halted this movie screening, as officials felt it had terrorist which could trigger chaos in the nation. Katrina has not only made an outstanding effort to act in the movie but also has taken the initiative to support 'Phantom'.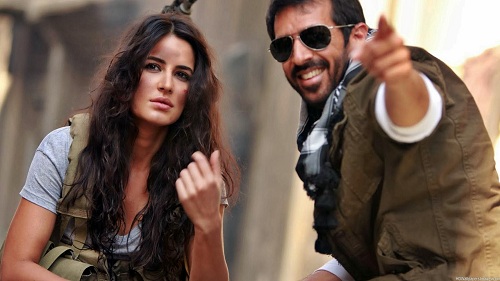 Religious Community Jamat-Ud-Dawa chief Hafiz Saeed registered case in Lahore High Court that movie should not be released in Pakistan at any circumstances as the movie is going to insult our ethics. 'Phantom' director Kabir Khan has also answered in a press meet that movie is solely based terrorism and its no where related to Pakistan with it. Kabir's previous movie 'Bajrangi Bhaijaan' has also faced similar issues in Pakistan, However the movie got praises.
Phantom's lead actor Katrina exclaimed,"It is logical that Pakistan will have problem with this film. A person is doing wrong and the country is not doing wrong. One of the villains in the film may be from Pakistan but that doesn't mean Pakistan is a villainous country. Kabir Khan feels the country has suffered and not that the country is bad. There is a lot of conflict and upheaval between the two countries so there will be stories on it."
katrina concludes that its a fictional narration revolving around 26/11 attacks and is sure about Kabir Khan syncing the facts right. Movie is engraved with a sensible part related to Pakistan. We are not here to promote religious hatred, We just want to bring you entertainment with an amazing story to tell.