Kalvakuntla Chandrashekar Rao had elected as a chief minister to Telangana for the second time. His first mission is to complete the mission Bhagiratha. Honorable Prime Minister of India, Narendra Modi had launched the mission bhagiratha at Komatibanda village in Medak district. On 6th August 2016, this mission came on to live in Gajwel constituency. Mission Bhagiratha project mainly used for supplying safe drinking water to every village and cities in Telangana. Mission Bhagiratha project started by KCR with a budget of 43,791 crores. The main aim behind mission Bhagiratha project is to supply drinking water. If the mission completes, then the water supplied to 2.32 crore people in 20 lakh households in urban and 60 lakh people in rural.
KCR Final Deadline For Mission Bhagiratha
Water will soon be supplied from river Godavari and river Krishna to all household people in Telangana state. 53.68 Tmc water will come from the Godavari and 32.43 Tmc from Krishna river. A large amount of water supplied to Telangana state soon. The total project divided into 26 segments at an estimated cost of 42, 853 crores. In this, there are 25000 habitations. It is an interlinking of river Godavari and Krishna to supply water to 25000 villages and 65 towns.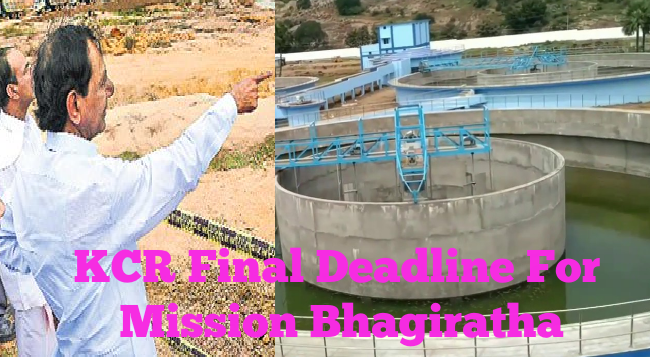 The main target is to provide 100 liters water to urban and 150-liter water to the rural area per person. All the required permissions, nearly 13000 had taken from other departments to complete the mission bhagiratha. For the water purification, they arranged 62 pumping stations, 35,573 Overhead service reservoirs, 150 water treatment plants, and 27 intake wells. Total water pipeline length is 1,30,000. Mainly water will be pumped using gravity and minimal electricity i.e. based on topography analysis.
CM KCR Sets 31st March For Mission Bhagiratha
The CM Kalvakuntla KCR had ordered the higher officials to fix individual tap to every house in Telangana state by March 31. After starting this project water will supply Irrespective to landforms, hills areas and remote areas in Telangana. Higher officials had said that out of 23, 968 residential households, we supply water to 23,947 i.e. 95% of people are getting water by this project. By 10th January 2019, we will supply water to all the villages in Telangana state. Later by March 31st, every house in Telangana will have a drinking water tap. KCR completes Mission Bhagiratha and that water will be supplied to all the people of Telangana. By this project, Telangana people will get plenty of water and they will be so happy.