Arun Vijay Upcoming Movie Kuttram 23 is all set to release the First Look Poster today. Kuttram 23 film unit is currently busy with the shooting schedule that is briskly having the shooting sequence in planned areas. June is the date confirmed by the filmmakers to reveal the first look poster. As per source, the film unit it to wind up the shooting part by the end of this month, June.
Kuttram 23 Movie First Look Motion Poster
Kuttram 23 is being directed by Arivazhagan and the production work is done by Arun Vijay's In Cinemas Entertainment. Fans are eager to watch the Arun Vijay's medical crime thriller on screen, but presently they are waiting to have a look at first look poster. Vishal Chandrasekhar delivered the tunes for the film. Recently the film unit has worked very hard for 36 hours to complete an important sequence. The complete unit worked at Pallikaranai dump yard in the outskirts of the city.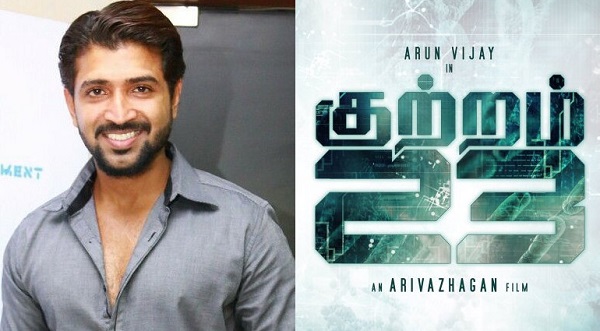 Arun Vijay Film kuttram 23 First Look Poster
The well known action director Silva who marks perfectionist in his work took care of the sequence. He made the complete sequence nonstop over 36 hours in that dumpyard. All the team unit provided with mask to avoid infection and endure bad smell from the dump yard. The film unit has overcome all the troubles including hot temperature. There were about 400 people in the set and the shooting took place from morning 6 am with 5 cameras.
A Aa Movie Review Rating Story
Look at the first look poster of Kuttram 23, as an actor this is 23rd film of Arun Vijay. The film is in final stage to complete its shooting. The First Look Poster of Kuttram 23 has been released, the release date June 2 is officially confirmed by the actor itself. The most interesting part of the film is, the shooting has begun only a month ago, but the film unit managed to wrap up almost 80% of the shooting part. Director Arivazhagan confirmed that the pending and remaining part of the film's shoot will be definitely completes by the end of this month June. At present have a look at movies first released poster.
Watch Arun Vijay Film kuttram 23 First Look Motion Poster